Golf & Bridge at Kulm Hotel St Moritz in summer 2012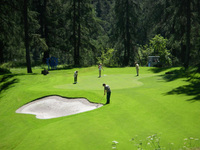 The world-famous Kulm Hotel St Moritz may have only just closed its doors on the winter ski season, but it has already lined up a variety of interesting golf packages to tempt visitors back to the Engadine in the summer months ahead.
Among them is a unique week-long bridge and golf combination, with bridge lessons provided by the German 47-time bridge champion, Helmut Häusler, and golf coaching on offer from the Kulm Hotel Golf Academy's very own professional, David Hurtado from Spain. It's not important whether you are a beginner or expert in either field, as the purpose of the package is either to learn a new game or improve an existing skill.
Throughout their stay, guests will be looked after by experienced bridge hostess Angelika Vogel, who is also a passionate golfer and will be able to provide practical and theoretical advice on both games! Aside from lessons, guests will be able to take part in daily bridge tournaments with a guaranteed partner and practise their golf on the Academy's driving range and putting green, as well as play the Kulm Golf St Moritz's 9-hole course.
The week-long "Bridge & Golf" package is being offered on two consecutive weeks, between 29 July and 12 August, and costs from CHF1,740 (approx £1,190) per person, including seven nights' bed & breakfast accommodation, plus daily dinner on the Gourmet Dine Around (which allows access to all the restaurants in the Kulm Hotel St Moritz and its sister hotel, Grand Hotel Kronenhof in Pontresina), a welcome and farewell aperitif, bridge instruction and tournaments, and access to the Golf Academy and the Kulm golf course.
For golf purists, the Kulm Hotel St Moritz has 2- and 3-night "Golf Breaks" this summer that allow access to golf on three courses in the Engadine Valley (the 9-hole Kulm Golf, and 18-hole Zuoz and Samedan courses), half-board Gourmet Dine Around, a nightcap and a relaxing sea salt bath of choice with which to wind down at the end of the day. Prices start from CHF625 (approx £425) for the 2-night break and from CHF835 (approx £570) for the 3-night break. A slightly longer 5-night "Golf Safari" package costs from CHF1,455 (approx £995). All of these packages can be extended to include 6 or 7 nights' accommodation, according to individuals' needs.
Finally, for those golfers who have their hearts set on improving their game significantly, Kulm Hotel St Moritz is once again offering "Golf at the Highest Level with Robert Baker", the founder of Logical Golf, between 24 August and 2 September. Baker has been named one of America's Top 100 Teachers by Golf Magazine and has taught some of the biggest names in golf, including Ernie Els, Greg Norman, Seve Ballesteros, Nick Price, and Nick Faldo. He has also taught Hollywood celebrities Sylvester Stallone, Samuel L. Jackson, and Michael Douglas, and sports stars Michael Jordan and Ian Botham.
The beauty of golf in St Moritz and the Engadine region is the dramatic Alpine vistas against which it is played, the fresh mountain air and the deep blue summer skies, for St Moritz enjoys sunshine for an average of 322 days of the year. However, the season is fairly short, with the Kulm Hotel St Moritz only open from 20 June until 2 September 2012, so early booking is essential to avoid disappointment.
For further information on all of the Kulm Hotel St Moritz's golf packages, please visit kulmhotel-stmoritz.ch.