Mune Healthy Water wins at Natural & Organic Awards 2012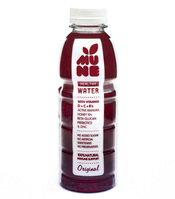 The unique immune-boosting health drink, Mune Healthy Water, has been crowned 'Best New Drink' at this year's Natural & Organic Awards 2012.
The vitamin-rich range of water drinks beat off competition from across the natural products sector to take the accolade, which was based on votes cast by visitors to this year's Natural & Organic Products Show at Olympia on 1st April 2012.
Packed with nutrient-rich fruit alongside selected 100% natural ingredients renowned for their health properties, Mune Healthy Water is designed to help maintain a healthy immune system by providing 50% of the RDA of zinc and seven vital vitamins including B3, B5, B6, B9, B12, C and D3 in every bottle.
Available in two delicious flavours - Original and Revive, Mune Healthy Water combines pure fruit extracts with naturally sweet ingredients to create mouth-watering and hydrating drinks free from added sugar, all artificial sweeteners and preservatives.
Mune Healthy Water Original blends nutrient-rich montmorency cherries, Manuka honey 10+, black elderberry, lemon, ginger and beta glucans and, when consumed regularly, can help to maintain good health in the face of infections such as cold and flu.
Mune Healthy Water Revive is a fresh and fragrant fusion of coconut, pineapple, blood orange, lemongrass and nettle to offer natural immune support during the hayfever and allergies season.
Derek Sanders of Mune Healthy Water says: "We've worked hard to create a completely unique and great-tasting product in Mune Healthy Water. It looks and tastes like nothing else, and it really delivers when it comes to vitamin content and health-boosting benefits. We're so proud that Mune Healthy Water has been recognised by the industry in this way."
The range is supported by dancer, actor and Sky 1's 'Got to Dance' celebrity judge, Adam Garcia, who uses Mune Healthy Water to keep hydrated after a performance, and to keep his immune system in good health: "As a professional dancer and actor, it's essential that I stay healthy, and maintaining a strong immune system is integral to the success of my career. Enjoying Mune Healthy Water every day helps me to perform at my best."
Mune Healthy Water has also just been shortlisted as finalist in the 'Best Immunity' category of the Beverage Innovation Functional Drinks Awards 2012, the global awards scheme for the functional drinks industry.
Mune Healthy Water is available from all good independent health food retailers, pharmacies, gyms and cafes, priced £1.89 (RSP). For further information, visit munehealthywater.co.uk.