Summer in the Alps, ideal for families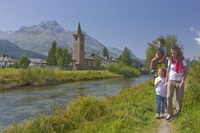 All too often Switzerland gets forgotten as a holiday destination once the snow has melted and Easter past, but this Alpine country is stunning in summer, too, and offers just as many opportunities for family adventures, if not more, than in winter.

The Engadine valley, where the Grand Hotel Kronenhof, Pontresina is located, is positively bursting with activities that suit families with children of all ages. There are mountains to be climbed, hiking trails to be discovered (of varying difficulty and with different themes, such as fairy and flower) by foot, mountain bike or scooter, lakes in which to swim or on which to sail, excursions by train, horse-drawn carriage, boat or helicopter, and child-friendly centres such as a petting zoo and rope park.
Better still, Grand Hotel Kronenhof has a comprehensive in-house programme for children, which means that parents also have the chance to spend some time relaxing on their own.
The hotel's play school offers a wide range of activities that vary daily and include crafts, indoor games, painting and plenty of exercise, then there's the Children's Club with its climbing wall, creative corner and teeny games, as well as table tennis, an indoor bowling alley and a water world with slides and water games, not forgetting Rondelle, the supervised children's restaurant.
Finally, many of Grand Hotel Kronenhof's guest rooms interconnect creating suites of almost any size, ideal for families with kids. And, of course, the hotel is happy to provide all the amenities that may be required, like children's beds, baby monitors, bottle warmers, kettles, baby baths, potties, changing table pads and more. If it is starting to sound as if the hotel has perfected the art of hosting families, it has according to the Swiss Hotel Association, which has awarded Grand Hotel Kronenhof its coveted Family Hotel Seal of Approval.
This summer, Grand Hotel Kronenhof's seven-night Fun for Kids & Co package costs from CHF1,745 (approx £1,195) per adult sharing a double room and from CHF1,365 (approx £935) for two children up to the age of 14 years sharing a connecting twin room.
The adult rate includes a week's half-board accommodation, including one breakfast at the Morteratsch dairy, one 25-minute back massage, unlimited use of The Kronenhof Spa and unlimited use of all the open mountain railways in the Engadine / St Moritz region.
The rate for two children sharing a room covers bed & breakfast accommodation only, including one breakfast at the Morteratsch dairy, supervised children's activities and unlimited use of all the open mountain railways in the Engadine / St Moritz region.
To book, visit kronenhof.com.