Explosive Volcano tours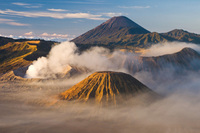 Adventure holiday specialist World Expeditions and its European division UTracks have a number of trips that allow you to get up close and personal to some of the world's most impressive volcanoes.
Summits of Ecuador 16 days
From jungle 'cloud forests' to the alpine 'paramo' tundra ecosystems, this trip is a volcano extravaganza, combining: Cotapaxi, the highest volcano in the world with an almost symmetrical cone; Chimborazo, the country's highest mountain whose top is completely covered by glaciers; the rocky and steep Illiniza for spectacular views; and the inactive Fuya Fuya, which partially collapsed around 165,000 years ago creating a large caldera, and Imbabura, the sacred 'protector' of the region, whose fertile slopes are covered in volcanic ash. The colourful Otavalo market, a visit to Quito, the first city to be named a UNESCO World Heritage Site, and the almost vertical Devil's Nose train complete this Ecuadorian experience.
Departs: 10 November 2012, 4 February 2013
Price: from £1,750 per person
New for 2012 Trek Réunion 6 days
Réunion is part of the Mascarene islands, a small archipelago of volcanic islands in the Indian Ocean - but unlike its closest neighbour Mauritius, which is famed for its beautiful beaches, Réunion boasts wildly dramatic volcanic mountainous interior. This trip allows you to explore on foot the mysterious Cirque of Mafate, a collapsed caldera of the volcano Piton des Neiges (one of the world's most active volcanoes that produces frequent but short-lived eruptions). Crossing this largely uninhabited area, the trek continues across the caldera to the village of Marla after which we cross the Taibit Col for a panoramic view of the two calderas. Optional activities include a diving safari on the nearby coral reef.
Departs: Monthly departures from May to October
Price: from £990 per person
Volcanoes of Sicily 8 days
A chance to trek the impressive volcanoes of Etna and Stromboli, which are in an almost constant state of activity! To the north of the island of Sicily in the Tyrrhenian Sea is the beautiful Aeolian Archipelago, made up of seven diverse islands, where the presence of steaming fumaroles and thermal waters testify to a long volcanic activity over a period of 260,000 years. After a guided ascent of Stromboli, where a fiery lava trail streams down one side of its cone, the focus shifts to Mount Etna, the tallest active volcano in Europe. Here you will walk on the flanks of the volcano with an ascent up to 2,900m where it is possible to observe the craters and appreciate panoramic views all the way to the Ionian coast. The trip is interspersed with opportunities to relax on the black beaches, bathe in therapeutic hot mud or snorkel in the deep blue sea.
Departs: Daily from April to October
Price: from £790 per person
Volcanoes and Dragons of Indonesia 15 days
The rugged archipelago of Indonesia is a land of impressive volcanoes. Kicking off in the beautiful forests of Eastern Java, this trekking adventure will see you climbing the active 'twins' Mount Welirang and Mount Arjuna, before heading to the famous Mount Bromo, rich in sulphur, for an impressive sunrise hike. For many the highlight of this region is an ascent of spectacular Mount Rinjani, Indonesia's second highest volcano, semi-active and held in awe by the islanders who regularly ascend the steep trail to the crater rim. Following in their footsteps, you will explore the bright emerald green waters of Lake Segara Anak and attempt an early morning summit attempt to this impressive dominating peak for breathtaking views.
Departs: Monthly departures from May to September
Price: from £1,790 per person
For more information and bookings visit worldexpeditions.co.uk. World Expeditions' all-inclusive policy ensures there are no local payments. Prices do not include international flights, however these can be arranged on request.