Kia launches all-new flagship K9 saloon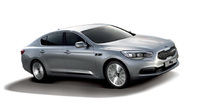 Kia's all-new luxury flagship saloon, the K9, has gone on sale in Korea, introducing Kia to an entirely new segment of the global automotive market. The striking new rear-wheel drive will be launched in a number of key overseas markets starting in the fourth quarter of 2012.

With a 5,090 mm overall length and 3,045 mm wheelbase, K9 offers generous front and rear occupant space. Overall width and height are 1,900 mm and 1,490 mm, respectively, which creates a spacious cabin environment.

Initially, K9 will be available in some overseas markets powered by an upgraded 290 ps Lambda V6 3.8-litre MPI engine, with a 334 ps 3.8-litre GDI engine joining the global engine line-up next year.

The all-new saloon will premiere a range of advanced luxury features and technologies, including fully adaptive all-LED headlamps, Lane Departure Warning System (LDWS), radar-based Blind-Spot Detection (BSD), a 17-speaker Lexicon (by Harman) sound system, Smart Cruise Control (SCC) and an Around-View Monitor (AVM) with four cameras.

Every K9 comes with Kia's all-new eight-speed automatic transmission. The wide spread of gear ratios guarantees brisk acceleration and high-speed refinement, while shift-by-wire (SBW) technology with a joystick control delivers fast, smooth gear changes.

"K9 is all about elegant simplicity, balanced proportions and simple surfaces," says Kia's Chief Design Officer, Peter Schreyer. "The class-leading long wheelbase, the prestige distance, large wheels, sharply upright short overhangs and a long sweeping shoulder line all work together in a harmony to give K9 a sporty, athletic proportion and a confident stance quintessential to a premium large rear-wheel drive vehicle."

"K9 is a clear signal of our intention and determination to compete head-to-head with the European luxury brands. And for Kia, our customers, and for me – this car is like a dream come true," concludes Schreyer.

Currently there are no plans to bring the K9 to the UK.