Girls at sea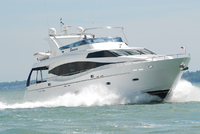 When Carrie Martin was offered the job of a lifetime in New York, she wanted to say goodbye to her best friends in style. She certainly did, on board the luxury motor yacht Samaric!
Says Carrie: "As I was going to be in America for at least two years, rather than throwing a farewell party I wanted to take my four best girlfriends for a long weekend somewhere sunny and special, a bit out of the ordinary. I looked at all sorts of hotels and country houses and then came across Samaric. I knew instantly that she was what I'd been searching for."
Carrie flew her friends to Palma, Majorca, where they boarded Samaric for four days of fun in the sun.
"Samaric was like a luxury floating hotel," says Carrie. "We even had our own chef!"

With four double cabins, Samaric can accommodate a maximum of eight guests sleeping on board in two doubles and two twins.

Both double cabins feature king-size beds and all four cabins have stylish granite or marble en suites, full reverse cycle air conditioning, satellite TV and DVD/CD/iPod plug-in player. Egyptian cotton monogrammed bed linen, duck or goose down pillows and the highest-quality bath towels add the finishing touch.
"During the day we relaxed on the various sundecks or swam in the sea," says Carrie. "We could have chosen our own itinerary but I let the skipper decide for us. We visited some beautiful, isolated sandy coves as well as fishing villages and larger towns where we went ashore to explore.
"We ate under the stars – there's even a barbecue on board – and listened to music, courtesy of the onboard music system, with no-one around to disturb except the fish. It was pure heaven and an experience I'll never forget! In fact, my friends loved it so much, they want us to do it all again when I get back to the UK!"
To enquire about Samaric, visit motoryachtchartermallorca.com.