Ford Focus crowned best medium car at 2012 Diesel Car Awards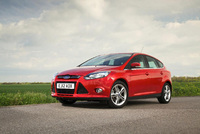 The all-new Ford Focus is best diesel medium car thanks to its contemporary style and refinement – as declared by Diesel Car magazine at its 2012 awards.

According to Diesel Car magazine, buyers are particularly attracted by its style and contemporary cabin. The all-new Ford Focus fought off competitors including the Hyundai i30 and Volkswagen Golf.

Editor, Ian Robertson, added: "Still the one to beat among mid-size family cars, the Ford Focus is simply the best in its class."

Ford Focus has just surpassed the landmark 1,500,000 sales since its launch in 1998 and continues to dominate its segment. The all-new Focus is recognised for its driver assistance technologies and refined drive, and offers a number of fuel efficient powertrains including the popular 1.6 TDCi which emits 109g CO2/km while returning 67mpg.

This diesel engine has been further optimised with a new injection system and turbocharger, enhanced charge-air cooling and friction-reduction technologies. It will be introduced in the UK market next month in the Focus ECOnetic Technology which is capable of CO2 emissions as low as 88g/km.

Other Ford models acknowledged at this year's awards were the Ford Fiesta, Ford Mondeo and Ford S-MAX, which were runners up in their respective categories – small car, large car, estate car and MPV.

Andy Barratt, Ford Britain sales director, said: "We are delighted that Focus has been awarded best medium car by Diesel Car magazine. Around 50 per cent of Focus cars bought are diesels and we look forward to welcoming the Focus ECOnetic Technology to the range shortly. This will offer 83.1mpg, making it the most fuel-efficient non-hybrid family car currently available in Europe. This independent endorsement recognises Focus's all-round appeal, as well as the UK-based Ford engineers and manufacturing specialists responsible for the diesel powertrains."