A tour inside the magma chamber of a volcano in Iceland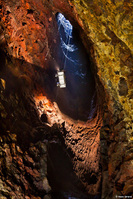 Discover the World has launched a new 'Up Close and Personal Volcano' adventure to Iceland, a short break featuring a new thrilling experience which is also a world first, the chance to journey 'inside the volcano' into the inner cavity of Thrihnukagigur, a volcano which has been dormant for 4,000 years. The trip, which is called Superjeep Volcano Adventure, is priced from £999 per person including flights, three nights accommodation and activities.
The new short break can only be booked between 15th June to 27th July 2012, as there is a limited timeframe during which the volcano experience runs due to local conditions. After a short hike across lava fields and a safety briefing, participants will descend 400ft via a cable car into the heart of the volcano on the Reykjanes Peninsula to the ground floor of the magma chamber.
As well as literally delving into the heart of volcanic Iceland, you will also experience the thrill of exploring Iceland by Superjeep. From an overnight base in Reykjavik, you will head out on daily guided safaris in these huge 4WD vehicles, which have been individually customised to traverse the rugged landscapes. Visit the famous trio of natural wonders on the Golden Circle route, encompassing Gullfoss waterfall, Geysir and Thingvellir National Parkbefore travelling to the wild lavascapes of the Reykjanes Peninsula for the Volcano tour.
Details of Up Close and Personal Volcano Adventure
Departing: Mon, Wed, Fri (15 June - 27 July 2012)
Price: from £999 per person (including Icelandair flights from London or Manchester, 3 nights bed and breakfast accommodation, two guided Superjeep excursions and the 'Inside the Volcano' excursion)
This new trip is one of many other specialist volcano holidays which can be booked at discover-the-world.co.uk/volcano.
Over 200 people registered on Discover the World Volcano Hotline
A favourite with all tectonic trackers... the operator also runs a Volcano Hotline (register at volcanohotline[at]discover-the-world.co.uk) for those who want to find out the latest on volcanic activity in the area and any potential last minute trips.
This was extremely popular during the Fimmvorduhals eruption (which is part of the Eyjafjallajokull volcano, but was the 'tourist' eruption before the major one that closed airspaces). Discover the World took about 300 clients to witness it (within 3 days of the eruption - and some within 24 hours). There are over two hundred people signed up to the Hotline at the moment. If an eruption occurs, and as soon as it is safe and logistically possible, Discover the World will put together an itinerary and call everyone on the Hotline to arrange trips. These may involve helicopter flights and transport by Superjeep discover-the-world.co.uk/volcano.