Ford Focus is "Car of the Year" at the 2012 Honest John Awards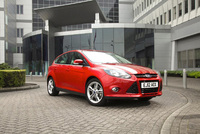 The Ford Focus is "Car of the Year" as well as the "Most Popular Small Family Car" at the 2012 honestjohn.co.uk awards, with Ford Mondeo and Ford C-MAX also picking up category wins as they are crowned "Most Popular Large Family Car" and "Most Popular MPV" respectively.

The honestjohn.co.uk awards are not awarded by judges or a panel, but instead are decided by Honest John website users. The cars that fans search for most on the site and are therefore of most interest, are declared the winners.

Dan Harrison, editor of honestjohn.co.uk, said: "It's no surprise to see the Ford Focus claiming the honestjohn.co.uk Car of the Year award for 2012. Ford is a hugely popular brand on the site and from the time the Focus was first reviewed, it's regularly topped our monthly chart as the most searched for car and it shows no sign of slowing down. With the Focus ST coming later this year we predict that there will be even more interest in the Focus on honestjohn.co.uk.

"The Ford Mondeo is just as impressive given that it is several years old. However our users show that it's still a very popular car which continues to get more site traffic than many newer family cars."

Mark Ovenden, Ford Britain managing director, said: "We are delighted that the Ford Focus, C-MAX and Mondeo continue to attract the attention of the honestjohn.co.uk website users. For Focus to be awarded Car of the Year is testimony to its style, practicality and high-tech options. The recent introduction of the game-changing new 1.0-litre EcoBoost powertrain has only enhanced its appeal and we look forward to welcoming the sporty Focus ST to the range shortly."

Honestjohn.co.uk was set up in 2000 to help consumers with advice on buying, selling and running cars. Since then "Honest John" himself has answered more than 625,000 questions, with the site receiving around 1.5 million visits per month.