Comedy of Errors starring Judi Dench available on DVD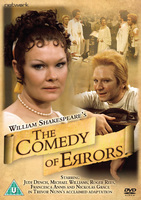 A star-studded cast- Dame Judi Dench, Michael Williams, Roger Rees, Francesca Annis and Nickolas Grace- feature in this joyfully exuberant Royal Shakespeare Company production of one of Shakespeare's best-loved comedies.
The play is a comedy of mistaken identities involving two sets of twins. With the company of their twin servants, the several sets of twins are separated in a shipwreck and thrown together again by chance, resulting in plots twisting and turning into total confusion and hilarity.
Conceived by Trevor Nunn, this musical presentation at the royal Shakespeare Theatre in Stratford-Upon-Avon is a carefree romp, in which we get to enjoy collapsing chairs, squirting soda siphons, funky wigs, not to mention uncompromising couplets and outrageous puns aplenty. The production features music by composer Guy Woolfenden, who received an Olivier Award for Best New Musical for the show's London production, and dance routines by world-renowned choreographer Gillian Lynne; Francesca Annis won a BAFTA award for her role as Luciana.
The BAFTA - winning Comedy of Errors (U) is available to buy on 28th May 2012, RRP £12.99.