The Maharajas' Express - India's newest premier luxury train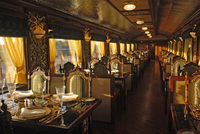 The Luxury Train Club, the concierge for quality rail travel, unveils the Maharajas' Express, including train fares and dates until 2014.
The Maharajas' Express is arguably the most perfect of the Indian luxury trains, taking travellers back to a bygone age, whilst maintaining modern comforts. Along with exquisite dining and lounge cars, there is a choice of luxurious cabins, all with large panoramic windows and attached bathrooms.
The Maharajas' Express has a total capacity of just 88 passengers, which, combined with a substantial crew, ensures excellent service throughout the train.
The itineraries selected by the Luxury Train Club include:
Heritage of India: 7 nights / 8 days, Mumbai to Delhi, via cave paintings at Ajanta, the Lake City of Udaipur, Jodhpur and its Fort, the Pink City of Jaipur and the Taj Mahal in Agra.
Gems of India: 3 nights / 4 days, Delhi to Agra, via the 'Golden Triangle', which includes Jaipur and Agra and shows off stunning Mughal, Rajputana and Indo-Islamic architecture.
Treasures of India: 3 nights / 4 days, similar to the Gems of India, but with slight variations.
Indian Panorama: 7 nights / 8 days, Delhi round trip to Delhi, visiting temples, forts and palaces; Jaipur, Lucknow, Ranthambore, Fatehpur Sikri, Agra, Gwalior, Orchha, Khajuraho, and Varansi.
Indian Splendour: 7 nights / 8 days, Delhi to Mumbai, via Agra, Jaipur, Ranthambore, Bikaner, Jodhpur, Udaipur, and Balasinor.
The Maharajas' Express has a range of suites as follows:
Deluxe (112 sq.ft): Twin or double beds with bathroom
Junior Suite (150 sq.ft): Twin or double beds, writing table and bathroom
Suite (220 sq.ft): Double bed, living area, bathroom with bath
Presidential Suite (448 sq.ft): Two double bedrooms with bathrooms (one with a bath tub), living/dining area.
Subject to availability, the Luxury Train Club can arrange the private charter of an entire carriage for a private party.
There are two restaurant cars, each seating 42 guests, where freshly-prepared dining is served from the onboard kitchens. The two lounge cars provide complimentary drinks, amongst a selection of books and with wonderful views.
Fay Lejeune of The Luxury Train Club says, "The Maharajas' Express is the embodiment of gracious living in the form of a luxury train, a style of travelling combined with a level of service that 19th century Indian royalty would recognize."
The Luxury Train Club features 17 of the world's most exquisite luxury trains that together travel in 21 countries, and is considered to be the concierge service for luxury train travel. The Luxury Train Club is part of Train Chartering, which has provided charter trains, private rail cars and special rail travel since 1998 to corporate and individual clients as well as group travel organisers.
For more information, visit trainchartering.com.