Add a touch of spice to National Barbecue Week with Primula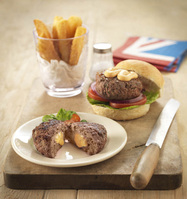 Primula, the uniquely squeezy cheese, is firing up for National Barbecue Week (28 May - 3 June 2012) with the launch of an exciting new burger cheese variety.
It is set to be this summer's taste sensation, designed to complement and bring out the flavours of BBQ foods by adding red pepper, dill and chillies, to the delicious cheesy taste of Primula products, but kicks up the heat with a natural hint of Paprika.
The convenient squeezy tube means Primula Burger Cheese is ideal to take on picnics or for alfresco eating. It can be used instead of conventional cheese slices and easily squeezed onto burgers, sausages and steaks, making it a versatile zesty addition to any summer barbecue or picnic treat.
As with all the Primula range, the new Primula Burger Cheese contains more real cheese than any other leading brand and contains no artificial colours, flavours or preservatives.
New Primula Burger Cheese is already available nationwide through Sainsbury's RRP around £1.
For more information on Primula including a huge range of recipe and snack ideas please visit primula.co.uk / nationalbbqweek.co.uk.
Recipe suggestions:
Burger Cheese Burgers
Serves 4
Ingredients:
1 small onion, finely chopped
500g lean minced beef
2 cloves garlic, crushed
2 tablespoons finely chopped parsley
1 tube Primula Burger Cheese
Salt and black pepper
Oil for frying
4 burger buns, sliced
Lettuce leaves, red onion slices and tomato slices to serve
Method:
1. Place the onion, minced beef, garlic and chopped parsley in a bowl. Season with salt and pepper and mix together well.
2. Divide the mixture into 4 and mould into burger shapes about 10cm (4 inches) in diameter. Make a small indentation in the centre of each burger and squeeze in about a tablespoon of Primula Burger Cheese. Carefully pinch together the meat to seal and enclose the filling.
3. Heat 1 tablespoon oil in a large frying pan and fry the burgers on each side for about 5-7 minutes until they are well browned and thoroughly cooked through.
4. Serve the burgers in burger buns with lettuce, red onion and tomato slices topped with Primula Burger Cheese.
Variations:
Use minced pork instead of minced beef
Easy Beany Burgers
Serves 4
Ingredients:
50g pine nuts
425g can borlotti or kidney beans, drained and rinsed
1 small red onion, finely chopped
1 tube Primula Burger Cheese
85g fresh breadcrumbs
1 tablespoon chopped parsley
Salt and black pepper
Oil for frying
Flatbreads or tortillas
Salad leaves, to serve
Method:
1. Heat a frying pan over medium heat and lightly toast the pine nuts for 2-3 minutes or until golden. Remove from the pan and set aside to cool.
2. Put the borlotti or kidney beans into a large bowl and mash well with a potato masher or fork. Add the pine nuts, chopped onion, 4 tablespoons Primula Burger Cheese, half of the breadcrumbs and the parsley. Season to taste with salt and black pepper and mix together well.
3. Shape the mixture into 4 burgers and coat the outside of each burger with the remaining breadcrumbs. Cover and chill in the fridge for at least 30 minutes.
4. Heat 2 tablespoons of oil in a large frying pan and fry the Easy Beany Burgers for 3-4 minutes on each side until golden and thoroughly heated through.
5. Serve the Burgers in warmed flatbreads or tortillas with salad leaves and a squeeze of Primula Burger Cheese.
Variations:
Divide the mixture into 8 smaller burgers and serve in pitta bread with salad leaves.