Get into shape on a weight loss and fitness holiday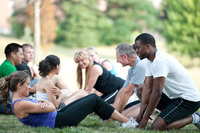 How did summer creep up so fast? It won't be long until the bikinis and swim shorts will be making an appearance, yet there is still time to slim down and shape up. Health and Fitness Travel, experts in tailor-made active and wellness holidays worldwide recommend their popular weight-loss and fitness retreats to help you look and feel your best in time for summer.
The main challenges with losing weight are self-discipline, motivation and time. You need to get the right mindset, understand your eating habits and find the right balance between cardio and resistance training. With many excellent holiday options, it's easy to find a destination that will assist you with your weight loss goals to keep you focused and motivated.
Steve Halsall, a celebrity personal trainer and spokesperson for Health and Fitness Travel says "Without doubt the best and only way to lose weight and look fantastic is to get into a positive mindset. Creating goals is obvious and important; however it is not where you are in three weeks but where you are in three years that counts. It is not fluke that people who eat well, train hard and dedicate time and energy in all the key areas of well-being tend to feel and look great. Taking the plunge and going on a weight loss and fitness holiday where you'll be the focus of attention will enable you to nurture your body, fight the flab and live a healthier lifestyle".
Health and Fitness Travel recommend their top 5 weight-loss and fitness holidays:
1. Malaysia: The Chateau Body Sculpt Slimming
The Chateau Spa & Organic Wellness Resort is the world's first organic wellness resort nestled serenely in the 150 year old tropical rainforest. Their specialised slimming plan is dedicated to improving your body contour, while toning muscles, building strength and endurance and cleansing out toxins, making you feel energized and revived. You can reach your ideal body weight and learn to control what you eat.
Health and Fitness Travel offers 7 nights at The Chateau Spa & Organic Wellness Resort from £3,910pp including the body sculpt slimming programme, return flights and transfers
2. Portugal: Longevity Essential Weight Management
Located in the stunning Monchique Mountains, this luxurious wellness resort is set in a protected natural reserve with breath-taking views over the Algarve coastline. Longevity's Essential Weight Management programme is designed to guide you towards achieving and maintaining your ideal weight by identifying areas of physical imbalance and associated emotional or mental patterns. Longevity will give you the tools and help to aid the removal of excess fat, helping you to relax, rebalance, revitalize and rejuvenate.
Health and Fitness Travel offers 7 nights at Longevity Wellness Resort from £1,995pp including the essential weight management programme, return flights and transfers
3. Thailand: Absolute Sanctuary Weight Management
Located on a hill in the beautiful island of Koh Samui, this health and fitness retreat makes every guest feel rejuvenated. The concept behind this programme is that effective weight management stems from a constant sense of awareness and self-control. With a combination of personalised fitness sessions, group fitness and yoga classes, cleansing therapies, nutritional supplements, crafted balanced meals, hands on cooking lessons and slimming treatments, you will be assisted in reaching your ideal weight.
Health and Fitness Travel offers 7 nights at Absolute Sanctuary from £2,220pp including the weight mangement programme, return flights and transfers
4. St Lucia: The BodyHoliday Weight Loss
With an extensive range of activities, treatments and fitness classes makes this the ideal place to achieve your weight loss goals. The options are almost limitless, from personal training to BodyStat analysis, nutritional consultations and hiking to body wraps. This tailored weight loss programme is designed to ensure you return home in the best shape possible. You will become fitter, stronger, and more physically able, as well as providing a renewed motivation.
Health and Fitness Travel offers 7 nights at TheBodyHoliday from £2,760pp including the weight loss programme, return flights and transfers
5. India: Ananda Weight Management
Secluded in the tranquil and splendour of the Himalayas, Ananda offers a new fitness challenge, by addressing weight loss issues through gradual exercise, and personalised health and diet plans. One will engage in such activities as Yoga, detox massages and meditation. With the right guidance for physical and emotional patterns you will be able to maintain your optimal size and reach your beach body goals.
Health and Fitness Travel offers 14 nights at Ananda from £5,320pp including the weight loss programme, return flights and transfers
For advice, guidance and booking visit healthandfitnesstravel.com.