The Nomad creates magical cinema at The House of St Barnabas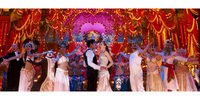 Have you ever wanted to see two of the most stunningly beautiful Baz Luhrmann films ever made, while sitting in the magnificent gardens of a Grade I listed building in London? Thought so.
Well as luck would have it, The Nomad Cinema has just added The House of St Barnabas to its list of open-air screenings in unique and quirky spaces for its pop-up cinematic experiences.
This impressive Central London charitable venue is located in the heart of London's media quarter, on beautiful Soho Square. This grand historic home has stunning period features with its many rooms boasting beautiful chandeliers, silk-lined walls and delicate Rococo plasterwork, plus the remarkable 18th Century chapel that adds an extraordinary spiritual mystique to the surroundings.
However, it's the secluded garden that is the real gem for the Nomad and its followers. Rare to find such a lovely outdoor space in Soho — the garden, surrounded by ivy-covered walls, is like a little magical secret place you might never otherwise stumble upon. It is here that the Nomad will be screening Baz Luhrmann's Romeo + Juliet and Moulin Rouge on Friday 29th and Saturday 30th June respectively. Tickets for both screenings are priced at £25, not just to see these great films in such a unique setting, but also a complimentary drink on arrival and food included in the price, provided by Bubble Food.
As always with The Nomad, the film is the star and the location the highlight. Upon entering the world of The Nomad, it's the little touches that make the night. From outstanding picture quality, to thought-provoking little touches that enhance your viewing experience, via a friendly welcome from all at Team Nomad. When you leave a Nomad event, you'll hopefully feel all warm and fuzzy and take with you a glorious memory of seeing a wonderful film in a truly magical way.
As well as being a location that you'd otherwise be unlikely to visit, The House of St Barnabas appeals strongly to The Nomad due to their charity. They have been supporting people affected by homelessness for over 160 years, helping them to bring about a positive change in their lives. The House offers a unique Life Skills Programme to individuals recruited from nearby hostels and agencies. The mission of The House of St Barnabas today is to empower those affected by homelessness to regain, and importantly retain, employment so that they can become independent members of society again. "I've started to see life in different colours, and I have a dream that one day I will go higher and higher, as high as I can" House of St Barnabas Life Skills participant.

With Nomad's dedication to provide 100% of its profit to the Sustainability Institute in South Africa (the charity fully supported by the Nomad's big Sister, the Lexi Cinema) the partnership with House Of St Barnabas draws the perfect parallels in supporting communities.
For information and to book tickets for your cinematic adventure, visit whereisthenomad.com.