Announcing the launch of Adventure Worldwide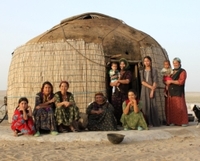 The specialist tour operator Chameleon Worldwide – which recently completed a buyout to become independently-owned – today announces the launch of an exciting new range of specially designed, small-group holidays, called Adventure Worldwide, featuring over 60 original itineraries to 38 countries around the globe.
Mark Wright, one of the UK's leading adventure travel experts with over 25 years of experience in the sector, comments: "There are hardly any independent adventure operators left these days so we're delighted to be autonomous and 100% self-owned again. We pride ourselves on flexibility and personal service; our style of specialist, adventure holiday cannot be sold like a commodity off a supermarket shelf.
"Over the years, we've formed great relationships with expert partners around the world and it's reassuring to be working with like-minded specialists who are as passionate about adventure travel as we are. Adventure Worldwide is all about getting away from mass-market travel; we're providing adventurous experiences beyond the wildest dreams of most people!
"Although we can tailor-make holidays for individuals or groups of friends, the trips we are launching are all 'small group' adventures. They have been created by our team under the guidance of our in-house expert Mark Knowles who has over a quarter of a century of experience in the adventure travel, mountain biking and trekking business. I doubt he has ever been near a sun lounger in his life!
"These days everyone does their holiday research online, so all the trips are clearly detailed with information, dates and prices on our website at adventureworldwide.co.uk. However, we are far from being an online supermarket; our experienced staff can provide detailed information and professional service to save people time. We offer high quality experiences and very good value for money.

"Our simple aim is to make sure that our clients experience the adventure of a lifetime, whether it be kayaking in Cambodia; trekking in the Tien Shan mountains or staying on a farm in Albania and learning about local ways of life."
One unique trip is a two-week adventure into little-known Turkmenistan - Caspian and Karakum. It includes a visit to the ancient city of Merv and the chance to meet the nomads of the Karakum Desert. Prices are from £1795 pp, which includes all land transportation, accommodation (hotels, home stay, guest house & camping), all meals and the services of a tour leader. Flight-inclusive prices are available on request.
Other exciting adventures include:
Meeting the Golden Eagle Hunters from 'Human Planet' in Mongolia's remote Altai Mountains
A journey across the wild plateau of Tibet to Everest
Staying on a remote highland farm in Albania's Accursed Mountains
Discovering the rich history of the Silk Road in Uzbekistan
Walking with Bears in the High Tatras of Slovakia
Snowshoeing in Lebanon
Learning how to survive on an island in the Taiga Forests of Finland
Meeting Yezidi nomads in Armenia
And many, many more…