Ford Focus 1.0-litre EcoBoost off to a fast start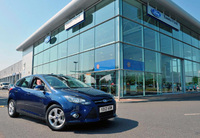 The new Ford Focus 1.0-litre EcoBoost model accounted for 17 per cent of sales in April – its first full month of being on sale – which equates to almost 1,000 cars. Overall UK orders for this multi-award-winning engine in Focus currently stand at more than 25 per cent of sales.

Across Europe, more than 4,700 customers ordered a Focus 1.0-litre EcoBoost in April, accounting for 23.3 per cent of the Ford Focus models in Europe's major 19 markets.

"The 1.0-litre EcoBoost engine is an example of an innovation arriving to market at just the right time, when customers are looking for a very fuel efficient but still-fun-to-drive petrol engine," said Roelant de Waard, vice president, Marketing, Sales and Service, Ford of Europe. "I have rarely seen such universal praise from the press, dealers and customers as that received for the Focus 1.0-litre EcoBoost."

Philip Maskell, Ford UK dealer council chairman and chairman and managing director, Essex Auto Group, said: "The new and exciting 1.0-litre EcoBoost engine in Focus has attracted a lot of positive attention at Ford dealers since its launch in April. We are delighted that over 60 per cent of customers who are in the market for a Ford Focus with a manual transmission go on to purchase one equipped with the new 1.0-litre EcoBoost engine after a test drive."

The new EcoBoost turbo-charged, direct injection engine is Ford's smallest, yet highest power density petrol engine ever, delivering the performance of a conventional 1.6-litre engine with improved fuel efficiency and lower CO2. The Focus 1.0-litre EcoBoost is class-leading in fuel economy and CO2 emissions in the C-segment for petrol-engine vehicles.

Weighing just 97 kilos, the 1.0-litre EcoBoost is small enough to sit on a sheet of A4 paper. The engine will also be available in the Ford B-MAX and Ford C-MAX later this year, with further applications yet to be announced.