New land law sets mercury rising in Turkish property market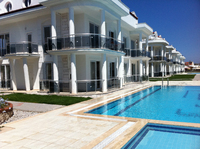 Mercury is set to rise on the Turkish property barometer after the recent passing of a long-awaited draft land-law bill which will ease restrictions on foreign property buyers in Turkey.
"The bill is a confident call to millions of overseas property investors to look to 'foreigner-friendly' Turkey, where they will now be able to get more property for their money without having to seek special permissions", says Suleyman Akbay, Director of Oceanwide Properties, a company specialising in homes along a 210 mile stretch of the Mediterranean and Aegean coastline, and Turkey's business capital, Istanbul.
Under the old land law, foreign buyers were restricted to purchasing 2.5 hectares (25,000 sqm) after which they had to seek consent; this has now increased to 30 hectares (300,000 sqm).
Additionally, the reciprocity clause of the law – which meant that only citizens of countries that allowed Turkish citizens to buy were allowed to do likewise in Turkey – has been dropped opening up the market to citizens in 89 countries across the Middle East and Asia.

Continues Akbay, "The reciprocity clause formerly frustrated buyers from countries of the Middle East and Asia, as they were required to register a Turkish company first and then purchase through that company. This added frustrating extra costs and red tape – ultimately suppressing any notable market in these areas.
"There is much hype in property circles about the influx of buyers the new Bill will attract, particularly from the Middle East. This isn't unfounded, at Oceanwide Properties we're already beginning to see a new trend in sales leads where there was little in these areas before, and the effective date for the law is yet to be set.

"For many Middle Eastern investors, the Arab Spring has shaken confidence in traditional second home destinations of the East – and Turkey offers an attractive alternative, aided by shared religious foundations, visa-free deals which have eased travel into Turkey, and now less prohibitive buying rules.
"The bill has a double whammy draw for our established European market, as property values will be inevitably be added to as more buyers look to Turkey, along with the fact that you can purchase more with your money. There will of course be variances on where biggest increases will occur, but in coastal areas, where tourism is strong, and Istanbul, where business is burgeoning and where demand outweighs supply, a change will undoubtedly be seen."
The law also provides for extensions to foreign land ownership up to 60 hectares, beyond the new 30 hectares ruling, providing this is authorised by the Cabinet, but stipulates that no more than 10 per cent of a district may be owned privately by a foreign national.
Akbay concludes: "With world markets troubled and major turbulence in some countries, it is heartening to know that we are able to expand into new countries and that investors are able to become ever more confident about buying in Turkey."
There is a wide choice of property for sale in Turkey on oceanwideproperties.co.uk, a selection of which is available below:
2 bed apartment on beach resort, £58,000
Modern 2 bed groundfloor apartment situated in popular Calis resort in secure complex. Comprises open plan kitchen/lounge, 1 twin and 1 double room and family bathroom. Well-maintained communal garden and shared pool. Within short access of Calis amentities and bus route. Viewing recommended. Ref: 2582331
Bright 2 bed apartment with views of nature reserve, £72,000
2 bed ground floor well-maintained resale apartment overlooking Çal?? beach bird sanctuary. Light and airy featuring external wide gallery style veranda with built-in hot tub. Comprises modern fitted kitchen with breakfast bar, spacious rooms with built-in hand crafted wooden wardrobes . 50m to the sea, in protected area so free from further surrounding development. Ref: 2560606
£77,000, character stone fronted duplex villa in popular valley location
Lovely 2-bed, stone fronted duplex villa set in mature gardens on the popular Delikta? valley with views over Fethiye town. Open plan kitchen/diner, with granite topped breakfast bar. Feature stone fire-place in reception room. Ceramic tiles throughout with French doors off all balconies. Shared pool and parking area. Easy walk into Fethiye centre and on Dolmu? route.Ref: 2528358

For more information, visit oceanwideproperties.co.uk.