Turkey's attraction increases with stronger pound and deregulation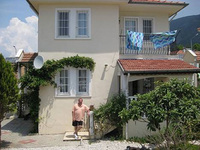 For British buyers keen to snap up a Mediterranean holiday home but put off certain European destinations by the Eurozone crisis, now could be the ideal time to buy in Turkey.
Being outside of the Eurozone – and the EU – means Turkey's economy has suffered less than its western neighbours and recent changes to its foreign ownership laws should only benefit the country. An added attraction is that many properties in Turkey are sold in euros, so Brits exchanging pounds to buy there will benefit from the recent hikes in the exchange rate.
"It's a win-win situation in Turkey at the moment," said Richard Way, Editor at the Overseas Guides Company. "British buyers can benefit from the weak euro when buying an asset that's not at the mercy of the Eurozone crisis as much as other euro countries, so isn't in danger of losing value any time soon. Furthermore, the recent removal of the reciprocity law for foreign property-buyers in Turkey means citizens of the Middle East and Central Asia may now purchase there freely, which should stimulate the market. A new law change will also increase the amount of land in Turkey that foreigners can buy from 25,000 to 30,000 square metres."
One Kent family who recognised the benefits of owning in Turkey are David and Toni Lee from Bromley, who completed on their new holiday home there in April.
When David recently came into some inheritance, he and wife Toni decided to invest it in something they could enjoy with their two children, aged eleven and eight, and extended family. They decided to buy an overseas property and after dismissing Spain, opted for Turkey.
As first-time overseas buyers, the couple did lots of research, which is how they came across a free guide to buying in Turkey available from The Overseas Guides Company, who also recommended the agent through whom the Lees purchased.
"We were new to purchasing abroad so wanted a resource we could put our trust in," said Toni. "The free guide and agent we were recommended were very useful and the whole buying process has been relatively straightforward. Originally we planned to buy in the Calis part of Fethiye – it is flat so would make it easier for us with our disabled daughter. However, when I arrived to look at properties there I didn't take to it so the agent offered to show us some alternative areas."
That's how Toni discovered their villa on a complex in Ovacik, a sweet village on the edge of Hisaronu. "The location is ideal," continues Toni. "Ovacik is peaceful with a few restaurants and bars, while livelier Hisanronu is a 15-minute walk away. The stunning beaches around the famous Oludeniz lagoon are just five minutes away on a local bus and the colourful town of Fethiye ten minutes away."
The Lees property, for which they paid £100,000, is a three-bedroom, three-storey villa with access to a shared pool. Two of the bedrooms are on the two top floors, while the third is on the bottom storey, which can be used as a self-contained one-bedroom apartment, making it ideal for having friends and family to stay. To reach the property, the Lee family fly to Dalaman, an hour away from Ovacik, leaving from Gatwick, Stansted or Heathrow.
Fun holidays come guaranteed with their new Turkish property, but the Lees may get an unexpected financial benefit from it too. "When we bought we never intended to offer holiday lets," says Toni. "However, our new property came with forward bookings from the previous owner so of course we agreed to honour them. But the property is still listed on a rentals website and we've had further enquiries since taking possession, so we might as well carry on for now."
For more information, visit overseasguidescompany.com.