Kia Sportage tops with owners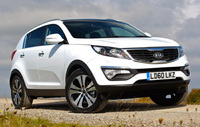 The Kia Sportage is tops with owners according to the latest JD Power-What Car? owner satisfaction survey, published today.

Outranking every other car in the survey the Sportage delivered the very best in terms of ownership experience according to the survey of more than 18,000 new car buyers.

Heading the Jaguar XF, Toyota Prius, Skoda Superb and the Mercedes Benz E-Class in the top five, the Sportage scored a ranking of 83.8 per cent amongst owners. The survey rates cars according to vehicle quality and reliability, vehicle appeal, dealer service satisfaction and ownership costs. All vehicles featured were registered between January 2009 and December 2010.

What Car? commented: "The Sportage was the only car in the survey to score five stars across all the categories. Thoughtful design, excellent reliability and sheer value for money helped Kia's SUV to an historic double win as it is the first SUV ever to take the overall title, in its first year in the survey!"

And owners were reported as saying – 'It is better looking than other SUVs and less expensive than most'; 'This is one of the best looking cars ever!'; "Am I going to trade mine in? I think not; friends, family, passers-by – they all love it'.

Michael Cole, Managing Director of Kia Motors (UK) Limited added: "This survey talks to the most important people in the business – owners! We are delighted that they have loved their Sportages so much and it bears out what we know from the demand for this car – that we have a winner on our hands."

Sportage is available in two and four wheel drive versions and features two petrol and two diesel engines with six-speed manual and six-speed automatic transmission options. With three trim versions available the Sportage is priced from £17,300 to £26,930 on the road.

For more information on the entire Sportage range, go to kia.co.uk.