Canada's Big Five Safari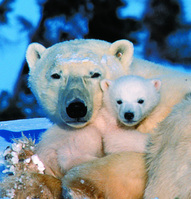 For wildlife enthusiasts looking for a new adventure, then Manitoba's Big Five Safari is sure to tick all the right boxes. Located a world away from the plains of Africa in the beautiful province of Manitoba, Canada, this one of a kind adventure showcases the very best of Canada's wildlife in one amazing trip allowing visitors the opportunity to see beluga whales, polar bears, black bear, moose and bison.
The safari is available every July & August and begins in Manitoba's capital Winnipeg, the geographic centre of North America, before moving to the Riding Mountain National Park for the first experience of the wildlife Manitoba has to offer.
Riding Mountain National Park in the midst of Western Manitoba's prairie landscape covers 3,000 square kilometres. This rich wilderness has true diversity with expanses of boreal forest, huge meadows & lakes and the deep gorges of the Manitoba Escarpment making it a perfect area to view three of Manitoba's Big Five.
With one of the largest populations of black bears in North America, thousands of moose and a captive herd of bison calling the national park home, visitors are guaranteed plenty of photo opportunities. However it's not just the big five that call Manitoba home, sightings of wolves, elk and coyotes are also common place in Riding Mountain National Park as well as more than 260 species of birds.
From the plains of the Riding Mountain National Park the adventure continues by travelling north by plane or train to Churchill the Polar Bear Capital of the World. Situated on the western shore of Hudson Bay, Churchill is the only easily accessible human settlement where polar bears can be observed in the wild. But the Churchill area is not only famous for the polar bears that call it home, but also the thousands of beluga whale that visit the waters of the Churchill river each Summer to feed and calve. Visitors have several options to view these majestic creatures including boat and kayak but the most unusual is definitely the opportunity to snorkel with them. Having the chance to enter the whale's world is a unique experience and the best way to understand why the Beluga whales are also said to be the 'canaries of the sea', truly a unique once in a lifetime opportunity.
At the end of their time in Churchill visitors head back to Winnipeg to either catch their flight home or to continue exploring everything else Manitoba has to offer!