Get jamming with Vivien Lloyd's new iBook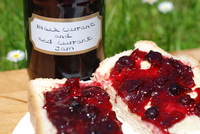 To celebrate the arrival of jam making season, Vivien Lloyd, has released First Preserves: Jams on iBooks. Following the release of her first iBook, First Preserves: Marmalades, it combines the interactive nature of the iPad with elements of Vivien's acclaimed first book, also entitled First Preserves and includes three brand new recipes - Black Currant & Red Currant Jam, Raspberry & Apple Jam, and Rhubarb & Ginger Jam.
Vivien is one of the first cookery writers to utilise new iBook technology, launched in January, which added multi-touch functionality to the iBook experience. First Preserves: Jams offers tried-and-tested recipes for both the novice and the experienced preserver, detailed explanations of each stage of the preserving process, plus galleries of informative colour photographs and embedded video. Vivien's used the new multi-touch functionality to provide readers with a step-by-step video demonstration of the Raspberry & Apple Jam recipe, bringing Vivien right to your kitchen.
A "Define, Highlight, Note and Search" facility allows the reader to obtain definitions, explore further information online and set up a personal notebook to record all their thoughts during the preserving process, and all the equipment needed for successful jam-making is described, with direct links to UK, US and Australian suppliers' websites.
As well as featuring the original book's popular chapter on competitions, First Preserves: Jams features a helpful new "Faults" section, covering common mistakes Vivien has come across during her many years of competition judging, with photographic examples and explanations of what's wrong and why.
Vivien is keen to expel the myth that jam making is difficult, believing instead that it is a simple science. She says: "Making jam is a simple process of boiling sugar with cooked fruit and most jams can be made in under an hour. Follow a few straightforward rules and you have an inexpensive and rewarding activity you can enjoy over and over."
With First Preserves: Jams, Vivien aims to bring the tradition of jam-making to a new audience, informing and inspiring beginners to get into the kitchen to make the popular preserve as well as encouraging jam making enthusiasts to take their preserving to the next level and experience the excitement of entering a competition.