Survey of singles says travel increases sex appeal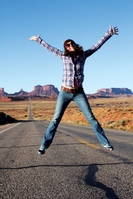 A new survey of singles who are actively looking for a partner has found that travel makes you more attractive. Intrepid Travel's poll of more than 880 singles on Australian dating site RSVP.com.au found that for over half (55%) of respondents, having travel listed on a potential mate's profile makes them more attractive.
"Travellers are generally considered curious about the world, open minded and adventurous – all of which are attractive qualities," said Jo Stewart, a spokesperson for Intrepid Travel, whose head office is in Melbourne, Australia.
Daring travellers appear to be the most alluring to potential partners, with 23% of respondents nominating adventure-seekers as the most attractive, followed closely by the off-the-beaten track traveller (22%) and then the cultural connoisseur (16%).
An overwhelming 96% of respondents who are interested in travel themselves are also looking for someone who has a passion for seeing the world.
"We know that when looking for a partner, shared interests and lifestyle goals are very important," said Melanie Dudgeon, a spokesperson for RSVP. "Many singles hope to travel and explore the world with a partner and this is why a common interest in travel is important to such a large majority. The Travel Bug group is one of RSVP's largest forums as it helps 25,000 like-minded travel lovers connect online."
It's no surprise that 59% of single respondents said they prefer to travel with other singles. "Travelling in a small group with other single people is often preferred, because it's more likely the people in the group will be interested in the same types of activities and it's a great way to meet new people," said Jo Stewart of Intrepid Travel.
Almost half of singles surveyed (49%) admitted to having had a holiday romance and 72% of respondents said they think about the possiblity of meeting someone special when they go travelling.
When asked to choose from a list of ultimate travel first dates, a picnic in Tuscany ranked highest (26%) with a classic day of sightseeing in Paris the second choice (19%).