How to make Key Lime Pie, Key West style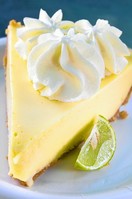 Virtually every travel destination boasts a signature dish that shouldn't be missed by the curious traveler. For example, there's New Orleans' jambalaya, Chicago's deep-dish pizza and Philadelphia' cheese steak sandwich. In the Florida Keys & Key West, that dish is Key lime pie.
Key lime pie is made from the Key lime, a fruit indigenous to the Florida Keys that's smaller and rounder than limes found in a grocery store. Key lime pie is the official pie of the State of Florida, and millions of slices are savored every year by visitors and locals.
While the pie's exact birthdate and creator are unknown, it was likely created in Key West in the late 19th century — predating refrigeration and the Overseas Railway that brought fresh ingredients like milk to the island at high speed.
Recipes for the original Key lime pie did not require refrigeration or baking. Instead, the acid in the Key lime juice reacts chemically with the other ingredients, a process called souring, and "cooks" the pie.
The typical ingredients of an authentic Key lime pie are sweetened condensed milk, egg yolks, Key lime juice and a piecrust generally made from butter and graham crackers. The egg yolks give the pie a yellowish coloring; green pies are not authentic.
"I'm always amazed that these simple ingredients can make such a wonderful pie," said Kermit Carpenter, resident Key lime pie expert and the owner of Kermit's Key West Key Lime Shoppe.
In this video, you can watch Kermit make the pie that made Key West famous!
This recipe makes a 9-inch pie.
Ingredients:
9-inch graham cracker piecrust
2 14-ounce cans sweetened condensed milk
6 egg yolks (The egg whites can be saved to make a meringue topping, if desired)
1/2-cup Kermit's Key Lime Juice
Preparation:
Blend milk and egg yolks at slow speed until smooth.
Add Key Lime juice and finish blending.
Pour into piecrust.
Bake in preheated 300-degree oven for 15 minutes.
Cool pie 20 minutes before refrigerating.
Serve chilled Key Lime pie with whipped cream topping or meringue.
Serving suggestions:
Traditionally, Key Lime pie is enjoyed plain, with a whipped cream topping, or with a meringue topping. For an interesting variation, drizzle chocolate sauce, mango sauce, and/or raspberry sauce over a slice of Key Lime pie. The complimentary flavors are sure to please.