Property shortage as Orlando breaks 55 million visitor barrier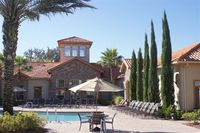 Figures published this month from Visit Orlando reveal that America's theme park capital attracted more visitors than expected in 2011 at 55.1 million people. This increase has helped generate property sales for Florida specialists Feltrim International but now a shortage of quality real estate is becoming apparent.
Adam Cornwell, Managing Director of Feltrim International, says, "In 2010 Orlando attracted 51.5 million visitors, knocking New York way into number two spot, and in 2011 was expected to top the 53 million mark. However, when the figures came in, the tally was even more astonishing. Orlando has set another record for any US travel destination and visitor numbers are 7.2% higher than the previous record breaker."
"For us, as estate agents specializing in the second or holiday home market, these visitor figures are extremely positive." Adam continues, "Yet, despite having a variety of new developments, single family homes, pre-tenanted condos and foreclosures in our portfolio, our challenge now is to find more good quality property to promote and sell. Several clients who holidayed in Feltrim's Mediterranean-styled Tuscana resort packed with leisure facilities went on to buy their own unit for a knock-down price of 105,000 US dollars for a two bed – this confirms that the demand is there and we need more of the same to bring to market."
Indeed as the pace of foreclosure increases and inventory declines, demand for new build and newly released projects will become more apparent. Foreign buyers, who view the United States as one big bargain basement of property, are spending in record numbers and helping to clear existing stock – many paying in cash.
Also, some of the hardest hit areas are rebounding the fastest. According to the Orlando Association of Realtors, inventory is down 31% over last year and, incredibly, prices are up nearly 13%. Developers are now either planning to build or actively looking for places to build – a dramatic turnaround considering the turmoil of the past two years. Against a backdrop of increased tourist arrivals, Orlando is in for a fantastic year as the economy bounces back.
On the market – Tuscana is a luxurious Mediterranean-style resort in Champions Gate within a 20 minute drive of Orlando's best attractions from Walt Disney World to SeaWorld and Universal Studios to world-class golf courses. With a choice of two and three bedroom apartments, all with large balconies, each is fully furnished with an equipped kitchen, air conditioning, two full bathrooms and TVs in all bedrooms. On-site amenities are comprehensive with a large swimming pool complex, hot tub, cinema, fitness centre, free wi-fi, Spa services and several bars, stores and eateries. Gated and with full on-site rental management, owners can opt in to a rental pool to generate income in their absence. Contracted to all the major tour operators in the US and beyond, occupancy at Tuscana was an impressive 74% in 2011. On-site teams take care of the cleaning and maintenance to keep your property in good condition whilst it produces healthy income.
Prices at Tuscana now start from 105,000 US dollars (approx 67,376 GBP) for a resale two bedroom apartment (was 360,000 US dollars – 71% discount) and from 124,900 US dollars (approx 80,146 GBP) for a resale three bedroom apartment (was 390,000 US dollars – 68% discount).
Visit feltriminternational.com for more information.