Ranch Rider launches "Go West" online campaign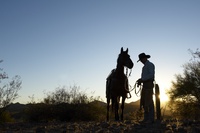 Riding holiday specialist, Ranch Rider is about to launch its "Go West" campaign, its aim to showcase the complete range of offerings at ranches across 13 US states. Targeted at all travellers from singles to families, the content will appear on the tour operator's Twitter & Facebook pages, and will also feature in the company's regular mailers.
Tony Daly, Managing Director of Ranch Rider, comments, "Riding holidays in North America are incredibly diverse, and while riding is the main activity at many ranches there's so much more on offer, our portfolio catering to those with a passion for golf, spa, photography and cuisine."
One of the only independent riding holiday specialists in the UK, Ranch Rider makes several visits to the US every year, Managing Director, Tony Daly recently returning from a three week tour of the Rocky Mountain states.
Tony Daly, comments, "It's great to be able to share first hand knowledge of the ranches we offer as it enables us to tailor dream riding holidays down to the finest details."
This is perhaps one of the main reasons why the tour operator has steered clear of online booking, Ranch Rider claiming that the variations between one guest ranch and another can vary considerably.
Tony Daly, comments, "Most people will have a very clear idea of the ranch they'd like to go to, but on the majority of occasions they will end up booking an entirely different holiday. Our website is really a guide, but we're hoping our "Go West" campaign will open the door to the world of ranching and give everyone hoping a better understanding of what's available."
Ranch Rider's "Go West" campaign will run from mid July through mid September. While not a specific event, every Friday (12-1pm GMT) from 13 July to 14 September, the tour operator will be open for questions on Twitter. Any ranch related questions should be followed by the #gowestUSofA hashtag. This Friday the focus will be on Arizona and Texas, both year-round ranching states. Useful ranch profiles will also feature every Friday on Ranch Rider's Facebook page.
Visit ranchrider.com for further information.