Learn to… with the Amieira Marina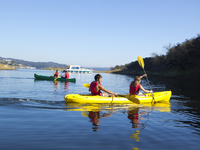 In the corner of the Alentejo region in Portugal, the Amieira Marina provides the perfect houseboat holiday for children, adults and budding sailors alike to try their hand at a range of water and land-based activities.
The Amieira Marina's position on the Great Alqueva Lake allows its guests to create their own adventurous itinerary and set out to explore the many traditional villages on the lake's shores. Water-based activities available all year round include sailing, fishing and waterskiing, while shore-side fun includes star gazing, horse riding and wine tasting. Other activities on offer at the Amieira Marina and shore include swimming, quad biking, kayaking, canoeing and cycling. There are plenty of experiences to suit both nautical enthusiasts and complete beginners as well as a beautiful surrounding region to explore.
Waterskiing and Wakeboarding
Waterskiing and wakeboarding are exhilarating experiences for first timers and enthusiasts of all ages. The Great Alqueva Lake offers guests the thrills and spills of waterski and wakeboard tuition, it's never too late to try! Individual lesson tuition costs from 25 Euros per twenty minute lesson for waterskiing and 40 Euros per twenty minute lesson for wakeboarding.
Sailing
A recreational sailing training service is available on the smooth waters of the lake with training for Beginners, Sailors and Local Masters. The service is available to visitors from 14 years of age upwards for around 45 to 250 Euros per person (£39 - £216) depending on the course which can range from two to 20 hours in duration.
Fishing
Take some time out to hire a quality fishing vessel equipped with fishing gear and its own fishing expert driver who is able to teach keen anglers how to cast a line to reel in the catch of the day with their vast knowledge of the lake and its fish species. Prices start from 200 Euros (£173) for half a day (9am to 1pm or 13pm to 6pm) and 280 Euros (£242) for the whole day (9am to 6pm) for a maximum of three people. (Fuel is not included).
Astronomy Tours
Earlier this year UNWTO and UNESCO certified Alqueva as a starlight destination for tourism. Alqueva, within which the Amieira Marina is set, is the first site to be granted official 'Starlight Tourism Destination' certification. The Starlight Certification system was developed to highlight areas across the globe where star-gazing is at its very best. Upon receiving certification, the reserve has set up a 'Dark Sky Route' designed to highlight areas in Alqueva that offer the ultimate star viewing experience in which visitors are offered astronomy tours and can be provided with telescopes to observe the night sky at their leisure.
Horse Riding
Learn to ride in the rural Alentejo region to explore the historical and cultural delights of the lake's local villages on a traditional mode of transport. The Amieira Marina offers a six night horse riding course for those that wish to swap the paddle for the saddle. The 'Randonnée Castles of the Great Lake Alqueva' horse riding tour invites guests to spend their days travelling between the quaint villages along the lake's shores including Monsaraz and Estrela, and nights aboard a houseboat or in local hotels.
Wine Tasting
The Marina also features a panoramic restaurant with 360 degree views of the surrounding countryside and offers guests the chance to sample a wide selection of traditional Alentejo cuisine. The Alentejo is also Portugal's largest wine-producing region and is famed for its delicious wines and hidden vineyards. Visitors can partake in wine tasting at the panoramic restaurant on the first Saturday of every month courtesy of local wine producers who are on hand to teach visitors how to match local wines with diverse regional dishes.
The region boasts a superb climate with average temperatures of 34°C during the summer months and family packages start from €1,209 (£1,012) for a four night-break (Monday to Friday) departing 25th August 2012 on the 1010 vessel which sleeps up to six people.
Visit amieiramarina.com for more information.