Introducing: Totally Africa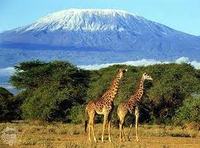 A new small group adventure holiday concept has been launched for those who wish to enjoy a budget-priced trip to Africa that retains the feel of a tailor-made itinerary.
Comments Derek Moore, Chairman of AITO (the Association of Independent Tour Operators) and one of the best-known names in adventure travel with over 30 years' experience: "We spotted a gap in the market for people who like the idea of having an Africa adventure holiday experience but who are put off by the jam-packed itineraries offered by most tour operators, to say nothing of the cost that goes with them.
"Adventure operators boast about the busyness of their itineraries but not everyone wants every minute of every day organised for them.
"We have created a concept whereby people can pick and choose which parts of the itinerary they wish to enjoy, and opt out of the activities they don't want to do. This helps to keep the cost of their holiday down – particularly important in these difficult times – as they are not paying for the entire itinerary up front (as is usually the case).
Totally Africa offers the 'cream of Africa' with 10 classic trips from 7-24 days in duration, to countries including Kenya, Tanzania, Namibia, Botswana and South Africa.
Trip examples include a short 3-day taster safari in Kenya, Kilimanjaro Treks and classic safari over-landing from Victoria Falls to Swakopmund, using local companies along the way, thus directly benefitting local communities.
Holidays cost from just £245 pp for the 7-day Cape, Falls & Kalahari Express trip plus a local payment of $240 US (a total of just £369 for a genuine African adventure holiday).
Totally Africa trips are offered by a UK-based office with full financial protection under UK law, working in partnership with an expert African-based company with over 25 years' experience.
The majority of trips will be supported by a crew of three people; a driver, cook and tour leader. Trips are sold 'land only' allowing people to shop around for the best priced flights or, alternatively, flights can be booked on request (fully-bonded for financial protection).
Visit totallyafrica.co.uk for further information.