Honda the choice of 007 for Skyfall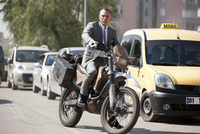 Honda has announced its partnership with the upcoming James Bond film, Skyfall, and unveiled the actual Honda machines used in the film, at the National Motor Museum in Beaulieu.

Honda's CRF250R motorcycle proved to be the machine of choice by the 007 film's action vehicles and stunt crew teams. These motorbikes were modified for the opening sequence of the 23rd James Bond film which was shot in Istanbul and Adana, Turkey earlier this year.

Twenty CRF250R machines were provided in total, to be adapted and 'dressed' appropriately into two native style motorbikes. One is a Turkish police bike that henchman, Patrice (Ola Rapace), seizes after a policeman crashes, the other is a Turkish merchant's bike that James Bond (Daniel Craig) uses to pursue Patrice through the streets. Both bikes feature extensive modifications courtesy of Chris Corbould's award-winning Special Effects team.

Two CRF450R motorbikes were further chosen for use as HD camera filming machines, as only a motorbike could easily enable the camera crew to keep up with the chase scene and follow the various stunts.

Stunt Co-ordinator for Skyfall, Gary Powell, commented, "We needed a highly versatile and quality off-road motorbike that could be easily modified, without compromising performance or safety, for the opening sequence ofSkyfall. Honda's CRFs are probably the best off-roaders out there so it's great that we've been able to partner with Honda as the bikes, whilst heavily modified, were superb to work with."

Honda (UK) Corporate Communications Manager, Fiona Cole, said, "We're delighted to be a partner for Skyfall and are very much looking forward to seeing our Honda CRFs in action in the film and rolling out some great associated activities we've got planned from October when the film is released. We like to try and do things differently at Honda, including finding innovative, yet relevant ways to showcase our diverse products, whilst also really engaging with our customers. It's great to not only have Honda machines chosen as the choice of Bond, but also to be working with such a longstanding film franchise."

The Skyfall 'Police' and 'Street Merchant' bikes, alongside the unmodified and original Honda CRF250R, were unveiled today at the famous National Motor Museum in Beaulieu, which is currently hosting the BOND IN MOTION exhibition until 31 December 2012. The exhibition, the largest of its kind, celebrates 50 years of the James Bond films and showcases 50 of the best-loved and most iconic Bond vehicles.

To mark the occasion, Honda (UK) is offering twenty pairs of tickets to the BOND IN MOTION exhibition at Beaulieu, to lucky winners who enter Honda's exclusive competition on its Twitter feed (@Honda_UK) before midnight on Sunday 22 July. Further activities surrounding Honda (UK)'s association with Skyfall will be announced over the coming months on honda.co.uk, Facebook/HondaCarsUK and Twitter @Honda_UK.

To see the versatile Honda CRF250Rs in action on screen and to enjoy the latest Bond adventure, head to see Skyfall in cinemas from 26 October.