Wine, dine & Berber music in the Atlas Mountains of Morocco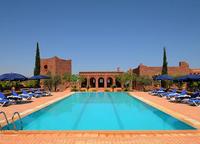 The recently built Kasbah Angour, a luxurious hotel constructed from stone in the style of a Berber castle and located in the Atlas Mountains of Morocco is probably the country's best kept secret – but all that is about to change.
British owner Paul Foulsham, the man who planned and oversaw the construction of the hotel from the very first stone to the last, is passionate about providing a genuine Moroccan experience to guests, whilst at the same time helping to grow the local economy by employing people from the nearby villages.
Part of that mission, is to educate people on the subject of previously little-known Moroccan wines.
Comments Paul: "Moroccans are incredibly welcoming to foreign visitors and have a very inclusive form of Islam that accepts that guests to the country may wish to enjoy alcohol while they are on holiday.
"Having recently acquired our license to sell alcohol we now have a selection of Moroccan wines which are surprisingly good. Moroccan wine used to be dominated by red. However, there are now some very good dry whites, including a Sauvignon blanc, and Morocco's wonderful 'gris' (a cross between a dry white and a rosé).
"The expatriate residents discovered the wonderful Sahari gris a few years ago and this has tempted more adventurous people (like me) to try the products of other producers of gris, e.g. Larroque. In the past, Moroccan wine producers didn't put the vintage on a particular bottle. However, Larroque gris now does. When I was recently asked by the manager of one of the leading restaurants in Marrakech if I had tried Larroque gris, I was able to ask if she was referring to 2010 or 2011! (2011 is better)."
The Moroccan wines available at Kasbah Angour can be enjoyed alongside the freshly cooked Berber dishes served in the smart restaurant, either inside or on the terrace with the stunning views of the summits of the mountains (incidentally, all the restaurant furniture was hand made by Moroccan craftsmen).
Typical dishes include: lamb tajine with quince, beef couscous with 7 vegetables and grilled chicken (marinated with coriander & garlic and cooked over a charcoal fire). The emphasis is on fresh seasonal produce, including fruit and vegetables from the Kasbah's own garden (in late autumn, the Kasbah's pomegranates supply the juice in the fresh fruit salad).
Kasbah Angour has an evening of live Berber music once a week and Moroccan wine tasting evenings are available on request.
A 4-night stay at Kasbah Angour from now until the end of September costs from £299 pp in a Valley room & £335 pp in a Mountain room. Price includes full-board accommodation and airport transfers. Flights to Marrakech are bookable online with BA, EasyJet, Ryanair, Thompson & RAM.
Visit kasbahangour.com for more information.