Evody - Alternative perfumes with individualistic personalities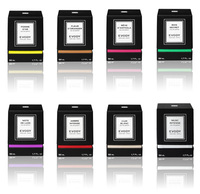 Crafted from pure passion by a mother and daughter duo, Evody's stamp of distinction is designed to enthral perfume aficionados. A collection of eight beguiling fragrances with personality, each unique design communicates a love for perfume through its history, emotions, olfactology and travelling through the senses – capturing you from the very first encounter.
At the forefront of niche perfume design, Evody's skillfully crafted fragrances capture the true essence of the art of perfumery with a contemporary style. Bewitching blossoms, exotic spices, stirring fruits and precious woods present the most mesmerising compositions - combining pleasure and true luxury for a blissful experience in every elegant fragrance.
Régine Droin and Cérine Vasseur, Founders of Evody believe,"The world of fragrances is so rich in the cultural point of view, fascinating and mysterious because our feelings and our memories are going to determine the final choice of a scent. Evody was created for people fascinated by fragrances who seek differentiation and personality".
Fall for an endearing collection of eight eau de parfums
Musc Intense
Pomme d'Or
Fleur d'Oranger
Reve d'Anthala
Bois Secret
Note de Luxe
Ambre Intense
Cuir Blanc
Available exclusively at Harvey Nichols, Knightsbridge and online at harveynichols.com.