Cookery course helps ski workers stay on-piste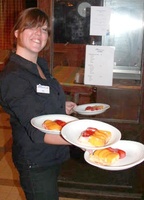 SkiWeekends are offering budding chalet boys and girls a unique chance to hone their chalet and cooking skills before heading to the Alps for the coming winter ski season.
The specialist winter holiday company has launched a course designed to help anyone looking to work a ski season get to the front of the queue with a number of impressive additions to their CV.
Based in one of France's most picturesque resorts, the cookery course in Morzine teaches students everything they need to know to run a chalet. Essentials include hot tub maintenance training and cooking skills, weekly menu planning to working and living abroad. Integral skills include learning to cook for large numbers, every element of being a chalet host and learning how to stretch a budget.
With more people heading abroad for career breaks and part-time gap-years the competition to secure a place amongst the ski set in the Alps has become fierce. The course has been specifically designed to help those looking to work in the Alps make the best of their skill set to stand out from the crowd. A job for the season is almost guaranteed as leading ski tour operators will be attending the course looking to recruit this winters staff.
The week-long course also includes wine and cheese tasting evenings as well as the chance to enjoy paragliding, rock climbing or mountain biking. The seven night course costs from £545 per person, with dates available from September 8 - 15, 15 - 22, 22 – 29 and includes full board, accommodation at the Chalet Gourmets located in the centre of this lively resort. Transfers are available from £50 per person and flights or rail travel is available at a supplement. For more information, visit skiweekends.com.