Things to do in the Algarve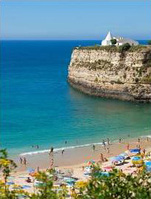 With plenty of good value holiday packages to the Algarve and 26 UK airports offering direct flights into Faro, visitors can soak up the sun in the region with average daily temperatures currently at 29 degrees.
Whether visitors are looking for an active getaway or a relaxing break, or perhaps a combination of the two, the Algarve is a one stop shop for a summer holiday to remember. From fun festivals to beautiful beaches to adrenalin-pumping sports to local wildlife, here are just a few of the many activities and experiences on offer in one of the UK's favourite tourist destinations:
Festivals and events
The Algarve prides itself on hosting a good party with a number of festivals and celebrations featuring in the region's calendar. Highlights this summer include:
Pink Floyd Live Tribute, 18th August 2012
This tribute performance showcases 12 highly talented musicians reproducing some of the biggest hits by Pink Floyd. This concert takes place at Parque de Feiras e Exposições, in Portimao from 6pm to 10pm and tickets are now on sale at: blueticket.pt
Folkfaro: Rhythm and dance from around the world, 18th – 26th August 2012
FolkFaro is one of the most anticipated events in the summer's cultural capital of the Algarve. Groups from different countries and continents, totalling more than 300 participants, will light up the Algarve with dances, songs and costumes from different cultures and traditions. The Gala Opening at the Theatre of Figures in Faro from 9:30pm on 18th August kicks off this cultural feast which features nine days or activities and performances. To book tickets visit: folkfaro.com
CinePraia, Open air cinema on the Algarve's beaches, 26th August 2012
This cinema marathon features five film genres screened at five beaches over five weeks and five nights a week. The beaches hosting CinePraia include Ilha de Tavira (Tavira Island), Ilha de Faro (Faro Island), Marina Beach (Vilamoura), Fisherman's Beach (Albufeira) and Batata Beach (Lagos) with films running from 10pm – 1am. Entry is free, call: . 00351 919 656 850 / 00351 961 470 100 for details.
Art Exhibition: 40 artists and 80 works – Masters of Portuguese Contemporary Art, 26th August 2012
The exhibition is being held by the Grande Real Sta. Eulália Hotel in Albufeira and is open from 8pm – midnight.
Portimao Marina Ice rink, 2nd September 2012
The ice rink at Portimao has a capacity for up to 800 people and features a lounge area with music, DJs and entertainment. Prices are 5€ for 30 minutes and the rink is open from Monday to Friday, 2pm – midnight and 11am – midnight at weekends. Call: 00351 253 283 483 for more information.
Throughout the month of August visitors will also find a number of antique fairs and local markets taking place across the region in a number of local towns including Vila do Bispo to Loulé to Aljezur to Olhao. Ideal for visitors looking to pick up a bargain, a holiday souvenir or perhaps a traditional product from the region.
Beaches
With some of the best beaches in the world including 77 blue flag awarded beaches the Algarve is the perfect place to relax, unwind and soak up the sun on a beach summer holiday. Head to the east coast of the Algarve to the beaches of Barril which has an amazing old train to the beach, Ilha de Tavira (Tavira Island) for calmer waters or explore the central beaches of Praia da Rocha and Carvoeiro for traditional sun, sea and sand. The west coast is perfect for adventurous types where rocky coves separate Arrifana beach from Monte Clérigo and the headlands at Bordeira beach offers stunning views of the Atlantic Ocean.
Sports
The Algarve is paradise for Golf enthusiasts, it is one of the top golfing destinations in the world with 38 golf courses including some of the most prestigious names in the sporting world such as Quinta do Lago, Vale do Lobo, Penina, Alto and Vilamoura. The region's sporting offerings don't stop there, for those looking for an adrenaline rush there are plenty of watersports to experience along the region's 200km coastline. From wakeboarding in Lagos to scuba diving in Lagoa to paragliding over vast stretches of white sand. Visitors can kayak amongst caves or catch some waves on the rugged western coastline, a hotspot for surfers or head out on a banana boat with friends in Praia da Luz.
Motorpark
From speed on the water to burning some rubber on land, the Algarve's 200 million euro Motorpark track in covers 300 hectares of land between Portimao and the hills of Monchique, with a capacity for 100,000 spectators. It has hosted major events such as the final round of the Superbike World Championship and the World Motorcross Championship. The park offers a go karting track and super car track experience for visitors looking for the ultimate high.
Family fun: water parks
With the majority of waterparks open from early April to late October in the Algarve, summer is the best time to visit the region for some family fun. Just outside Albufeira, head to the Zoomarine a combination of family entertainment, educational activities and exhilarating experiences, with top attractions including water slides, an 4D cinema show, an interactive dolphin programme and an aquarium teaming with marine life.
Nature & Wildlife
Explore the hinterland, the Algarve's hidden gem, by bicycle or on horseback along the Via Algarviana a 240km stretch of inland nature trails and walking paths which meanders through the centre of the region. With 70% of the Algarve protected nature reserves the Vicentine Coast is the perfect way to discover the native wildlife and diverse landscapes of the region. Each section of the route is divided into 30km stretches, allowing visitors to relax and take in the breathtaking sights along the way. Tours can be arranged with knowledgeable guides and incorporate overnight stops at quaint hotels and pousadas. Alternatively visit the Salt Marsh Natural Reserve at Castro Marim, a reserve stretching 2,089 hectares of landscape where keen birders can spot some of the 153 species of birds inhabiting the area from flamingos to mallards.
Spas
To complement the tranquil surroundings and demeanour of the Algarve, guests can indulge in a massage, spa treatment or alternative therapy in one of the region's luxurious 5* spas. Whether finishing the day with a traditional treatment or feeling adventurous and looking to try something new, the Algarve's spa menu offers and eclectic mix of age-old practices and breakthrough therapies.
For example, in Lagos visitors can try out supervised 'Juice Fasting' within detox programmes designed to renew and rejuvenate the whole body or for those wanting to practice Buddhist meditation, courses in Vipassana meditation featuring the fundamental principles can be taken on a ten-day retreat in Tavira and Monchique. Guests in the Algarve can also book lessons in Tai-Chi, meditation and yoga and or try treatments in Reiki therapy, psycho-energetic therapy, Tibetan Ayurveda therapy, feng shui therapy, homeopathy, shiatsu, reflexology, aromatherapy, crystal therapy and chromotherapy.
With 34 5*, 141 4*, and 229 3* hotels on offer in the Algarve, there are a range of budget options to suit families, friends, couples and single travellers looking for a break in the sun this summer so head to Portugal's sunshine coast to escape from it all, there are plenty of activities and experiences waiting to be discovered.
For more information: visitalgarve.pt