Stone fishing in Tahiti and her islands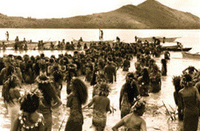 Stone fishing is a centuries old tradition celebrated on the island of Taha'a in the stunning French Polynesia. The hospitable locals share their rituals, history and island secrets, and guests are invited to join them and partake in this memorable experience.
Each November, the island comes alive with a stone fishing tournament. Organised by Taha'a communities, it is a must-see spectacular where locals gather to witness villagers beating the water with hand-made coconut fibre ropes with stones attached, causing a scare amongst the schools of fish making them swim towards the shores. The fish, enough to feed the entire community, are then collected in baskets made of woven coconut palms before being served as a delicious feast. This local practice showcases traditional fishing techniques whilst delving into local customs and is a great spectacle to watch and take part in.
The Le Taha'a Island Resort & Spa offers packages for visitors interested in enjoying the local traditions and natural beauty of the area. The resort is situated on an idyllic islet complete with immaculate white sand and pristine turquoise waters, boasting one of the most beautiful coral gardens in Tahiti. The resort is currently offering a 10th Anniversary Special package deal for visitors, from £3,145 per person including:
7 nights at Le Taha'a Island Resort & Spa in a Sunset Overwater Suite, including a 50% discount
Daily breakfast
Milky Way 3 course dinner for two including a bottle of wine and mineral water
Return boat transfers to and from the resort, domestic flights to Raiatea and international flights from London
Travel 01 September 2012 – 31 March 2013, must book by 15 December 2012
For more information or to book, visit letahaa.com.
For more information on Tahiti and her islands, visit tahiti-tourisme.co.uk.