Check out these insane commercial fishfinders!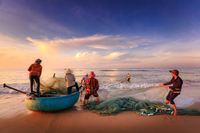 Technology has made every aspect of life easier and fishing is not left out. Fishing enthusiasts can now know where fish are. This list contains varied types of fishfinders.
1. Raymarine Dragonfly 4 Pro: This fishfinder provides capabilities of 100 feet to 200 feet. It allows you to save and set points like tracks which you can use when you revisit previously successful points. It comes with a 4-inch coloured screen, wide spectrum CHIRP DownVisionTM and all-weather optically bonded LCD display. It has a waterproofing standard of IPX6 and IPX7, the aspect ratio of 16:9, and display resolution of 480 x 272 WQVGA.
2. FURUNO FCV 2100: The FCV 2100 identifies the size of fish before they are caught and this is done with accuracy thanks to a combination of Split Beam technology and TruEcho CHIRP™. It also produces high-resolution images of the target and landscape. The FCV2100 has a trackball and an InstantAccess bar™. It comes with screen headers that make it easy to access the range, shift, sensitivity, image feed, and display mode menus. The FCV 2100 has the same transducer as the FCV 2000 which is 16cm in diameter.
3. Garmin Striker 7SV: Garmin is popular for producing top-notch products and this is one reason this fish finder features on this list. The Striker 7SV is a combination of a fishfinder and GPS with a design that allows it to adapt to tough marine conditions and deliver outstanding results. With its GPS receiver, you can mark your favourite spot and return to it at a later date, it also displays GPS speed which lets you know your trolling pace. This unit also has CHIRP sonar which provides information through an uninterrupted sweep of frequencies.
4. HumminBird Helix 5 SI: This unit comes with a VGA colour screen that is 5 inches wide and has a resolution of 480x640 pixels. It is a side imaging sonar with inbuilt micro SD card slot that provides an easy way to save waypoints. It is a portable device that comes with a transducer, a transom mount, power cable, a tilt-quick release mount (that stays in place when the device is unplugged) and documentation. It provides precision internal GPS chart plotting with an in-built UniMap cartography. All these features make it the best fishfinder for use in a kayak.
Whilst you may not have the coin for one of the insane fish finders mentioned here, you can be rest Assured, MarineServices.co.nz has an awesome selection of Fish Finders for your choosing. Let's check the rest of this exciting list below.
5. Simrad 2009 and 2016: These units are standalone and they feature the Simrad CHIRP technology which produces precise echo sounding details. Each unit can be used with a Simrad navigation network or on its own. They are also compatible with an array of transducers, offer adjustable ping speeds, vertical heave adjustments, flexible frequency selections and outstanding depth penetration. Both fishfinders have an integrated keypad and rotary dial and a direct access menu keys which are along the side of the display. The S2009 has a portrait 480×800-pixel display while the S2016 has a 1366×768-pixel high-definition.
6. Lowrance Elite 3X: This device comes with an easy-to-use interface with a 3.5-inch LED-backlit colour display with wide viewing angles and dedicated zoom buttons, a 200 kHz or 83 kHz dual frequency operation, water temperature sensors, and Fish ID. The Elite 3X makes the identification of fish targets, thermoclines, and bottom terrain easy and this is because of its Broad Sounder feature. Instead of arches, the Fish I.D shows fish icons which makes identification easier. The unit comes with a transducer, power cables, a mounting bracket and installation hardware. It also comes with an Advanced Signal Processing that reduces the need to fine-tune the settings to see the terrain at the bottom and fish.
7. Garmin GPSMAP 741xs: This is a combination of a sounder and a chart plotter. This device has media integration and autopilot compatibility, radar support, NMEA 2000, and wireless connectivity. It has a superfast 10 Hz GPS/GLONASS, Rrealvu 3D down imaging for a better view. It has Advanced Sonar Support- Built-in support for a wide selection of Garmin transducers, including 50/200 kHz, 77/200 kHz, DownVu and SideVu scanning sonar and CHIRP. It also supports Minn Kota and Motor Guide trolling motor transducers.
8. Lucky Portable: Its wireless sonar sensor comes with a fish attractive lamp that makes it easy to identify fish; the sensor can be seen even in the dark because it has a transparent replacement cover. Some of its features include zoom depth alarm, fish icon, depth range, fish alarm, units alter, screen brightness, and detect sensitivity. It has a 2.4-inch TFT colour LCD screen, can detect and display underwater contour, water depth, water temperature, and fish size. It can be used in two modes–Simulation and Wireless; while in simulation mode you can try out all the functions and use the wireless while fishing.
Finding the best fishfinder can be daunting but you with this helpful list, you need not worry any longer when going on one of your great fishing adventures whether alone or with other enthusiasts.