Second major fishing festival sails in to Bexhill, East Sussex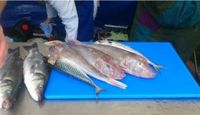 Following last year's runaway success, the second Bexhill Sea Angling Festival (7 - 15 September) promises to be even bigger and better.
The Festival has two parts, a series of angling competitions based at Bexhill Sea Angling Club and an Open Event on the stunning £5million exhibition space in front of the iconic De La Warr Pavilion.
The fun starts this year on Saturday 7th September 2013 with 2 days of fishing competitions along the beaches of Rother and food & games for all on the Festival lawns on the seafront of Bexhill-on-Sea. The Festival blends education about one the UKs most popular past times (an estimated 4 million people go fishing every year) with the current fashion and passion for cooking and seafood.
The festival retains the support of the Angling Trust, the voice of angling in England, and Rother District Council which has invested £10,000 into the event. Organised and run by a number of local anglers, the Bexhill Sea Angling Club and Bexhill's fishing tackle shop 'Hook, Line & Sinker', the festival aims to promote angling as a past-time, highlight the excellent fishing around the Sussex coast and make the link between sustainable fishing and healthy eating. This is a not for profit event.
Six competitions over nine days with a fun 'flattie bash' for those who arrive on Friday 6 September. Prizes include a fishing holiday in Norway and a £500 cash prize for the biggest fish. Throughout the weekend, Angling Trust coaches will be on hand in the 'coaching zone' to assist newcomers to the sport with advice and demonstrations.
This year the festival launches with the seafood festival weekend, when the Western Lawns play host to stalls selling freshly prepared fish dishes, seafood cooking demonstrations and free angling coaching sessions.
For more information and for details on how to enter the competitions visit bexhillseaanglingfestival.co.uk.