Kia earns environmental certificates from TUV Nord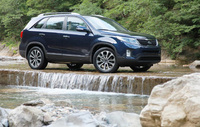 Kia Motors has been issued environmental certificates but TUV Nord, an independent technical inspection organisation, in recognition of the outstanding eco-credentials of three of its newest models.

Kia's recently introduced all-new cee'd hatchback, Optima hybrid saloon and refreshed Sorento SUV have all been certified according to the ISO 14040 Life Cycle Assessment (LCA). The LCA inspection examines the environmental impact of both the manufacturing process and the car throughout its lifetime, taking into account factors such as choice of materials, exhaust emissions and recycling.

Meanwhile, both the previous and current-generation cee'd have been awarded the ISO 14062 Design for Environment (DfE) certification. The DfE inspection examines the overall design of the product, measuring various eco-friendly factors including weight reduction, use of recyclable materials and fuel-efficiency.

Kia's eco-friendly product development process covers five major steps:
Application of a check-sheet to evaluate the vehicle's environmental credentials throughout its lifecycle
Utilisationof 3D drawings at the design stage to help verify recyclability
Detailed physical analysis of the product during the development process to verify recyclability
Use of eco-friendly materials
Streamlining of the manufacturing process, through improvements in use of materials and simplification of parts design

Employing this system has helped minimisethe environmental footprint of Kia's manufacturing process. For example, this year's ISO 14040 Life Cycle Assessment (LCA) certifications were awarded following confirmation of decreases in CO2 emissions of between 6% and 25% from the manufacturing of the relevant models.

Kia's first TUV Nord certification was earned in 2008 with the first-generation cee'd, and this year's certifications bring the total number of Kia models with ISO 14040 Life Cycle Assessment (LCA) certification to 10. Furthermore, with both the previous and current generation Kia cee'd earning DfE certifications, Kia has been awarded both of TUV Nord's major environment-related certifications.

Soon-Nam Lee, Director of Overseas Marketing at Kia Motors Corporation, said, "Since 2008, when the cee'd was first certified, TUV Nord has recognised numerous new Kia models including the Picanto, Rio and Optima [non-hybrid] last year. We believe this ongoing recognition of Kia's outstanding eco-friendliness will contribute to our rising brand image in Europe."

TUV Nord, headquartered in northern Germany, is an international certification organisation with more than 10,000 engineers from approximately 70 different countries supervising international certification within many industries.