Gold - A shimmering and precious pure addiction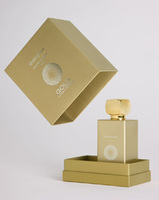 Unleash the pure vivacious spirit of Gold and experience a hedonistic and vibrant explosion of sparkling scents designed to beguile the senses this festive season.
Brought to you by the audacious minds at Undergreen, Gold breaks from the boundaries of classical perfumery to bestow an ultra-modern and skillfully crafted delight – its captivatingly elegant composition is ground-breakingly 100% natural.
Authentic and luxurious, Gold boasts a deliciously sublime mix of complexity and longevity. Adorned with gold, its shimmering fusion of freshness and artfully distilled natural decadence dazzles with layers of alluring sensations presenting high efficacy and fine quality, making it the perfect glamorous gift for unadulterated festive pleasure.
Gold a seductively refined composition with sparkling vibrancy, its enchantingly stimulating and refreshing harmony of fruits and spices arouse and bewitch the senses.
Top Notes: Lime, Lemongrass, Grapefruit
Heart Notes: Orange blossom, Ginger, Cardamom
Base Notes: Benzoin, Tonka Bean, Myrrh, Peruvian Tolu
Available from September exclusively at Harvey Nichols, Knightsbridge and online at harveynichols.com.