Brisbane's foodie scene resurges with new openings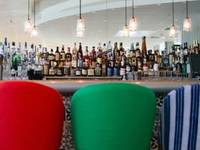 Almost two years on from the wide scale floods that affected much of the city centre, Brisbane's food scene has capitalised on the opportunity to regenerate its waterfront and embrace new restaurants and bars.
From the glamorous fine-dining scene in the newly re-vamped South Bank River Quay – where culture vultures flock to exhibitions at the esteemed GoMA (Gallery of Modern Art) and performances at QPAC (Queensland Performing Arts Complex) – to the quirkier restaurants opening in the trendy inner-city and the Valley, Brisbanites are embarking on a food revolution.
Here are the latest places to taste-test Brisbane's food revolution:
Aquitaine, South Bank River Quay
Aquitaine Brasserie, the newest addition to South Bank Corporation's new riverside district, River Quay, takes inspiration from the varied cuisine of the Aquitaine region of France, the River Quay establishment will compliment true French cooking.
Aquitaine is the final instalment of the new South Bank River Quay and joins a series of restaurants which are now home to some of Australia's best restaurateurs: The Stokehouse Q – the flagship tenant – followed by Cove Bar + Dining, The Jetty South Bank and Popolo. All have taken up residence at River Quay and established the area as the undisputed haven of ambient Queensland dining. All five restaurants bring their own distinct styles driven by a passion for food and the artistry involved in creating a memorable dining experience.
Gerard's Bistro, Fortitude Valley
Southern European style food with a North African twist sums up the menu at the latest restaurant to open its doors on Brisbane's James Street. The menu is built on seasonal and local produce and includes tasty morsels including Free Range Quail with Honey, Lavender, Pomegranate and Sage and Roasted Heirloom Vegetables with Spiced Crumble, Anchovy and Shanklish. Gerard's Bistro maintains an informal and approachable style of dining, while taking the flavours up a notch.
For more information, visit gerardsbistro.com.au.
Alfred & Constance, Fortitude Valley
The opening of Alfred & Constance in Brisbane's Fortitude Valley heralds a new age in wining and dining in the area. This venue is a gastro pub, café, dessert bar and tiki bar all rolled into one. Set across two beautiful Fortitude Valley timber character homes, Alfred & Constance is a new introduction from the team behind Brisbane's roof top bar, Limes Hotel. The pub will offer a huge outdoor area to take advantage of Brisbane's climate, while still retaining intimate nooks to hide away. Guests can choose their own level with the venue spanning a gastro pub with wood-fired oven, beer garden, laneway café and a number of other bars nestled in and around the two houses.
For more information, visit alfredandconstance.com.au.
champ kitchen + bar, South Bank
The first of many new restaurants due to open in the South Bank parklands, champ kitchen + bar provides winning river views and is located just down from the cultural district of the Queensland Performing Arts Centre (QPAC). Brought to life by Justine Whelan, who owns one of Brisbane's best cafes called Anouk, champ, serving European-Asian cuisine, is set to make a splash with the breakfast and pre and post-theatre crowds.
For further information, visit champkitchenandbar.com.au.
Mr and Mrs G Riverbar, Brisbane riverside
Mr and Mrs G Riverbar is set to open on Brisbane's panoramic Eagle Street. The new bar, owned by famed Brisbane restaurateurs Marcia and Andy Georgos, sits in front of Brisbane's iconic IlCentro Restaurant, also owned by the couple. The bar serves a range of cocktails, tapas and an impressive view of the Story Bridge and Brisbane River, and incorporates its own kitchen and foodservice to serve the funky crowds who mingle at the water's edge.
Mobile buns, Brisbane city centre
Experience the global food truck phenomenon in Brisbane with the Bun Mobile, an impossible to miss gourmet food truck serving hand crafted steam buns to foodies across the inner-city. Twice cooked pork, teriyaki chicken or wagyu beef are some of the treats available for less than $10.
Track the Bun Mobile's locations and plan your next feast at thebunmobile.com.au
Steamed, Brisbane city centre
Steamed is the newest addition to any lunch-time break bringing fresh, delicious dumplings to the hungry hoards across Brisbane's city centre run by owners David Schindler and Kevin Xu. Kevin's mother helps to make up to 5000 dumplings a day which include fillings such as pork and chive, beef with spices, vegetarian and fluffy pork buns.
Open for lunch only, for more information, visit steamedcatering.com.
For further information on Brisbane, visit experiencequeensland.com.