Journey Planner helps skiers fall in love with the train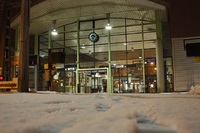 A new online journey-planning tool is set to revolutionise the way that skiers and snowboarders find out how to travel to ski resorts by train. The new Snowcarbon Journey Planner shows recommended train travel itineraries to ski resorts all over the Alps further in advance and more easily than anywhere else online.
Powered by a unique database, assembled in conjunction with leading rail companies, the Journey Planner enables skiers to view and compare the best, hand-researched, daytime and overnight journeys for 34 ski resorts in France, Switzerland, Italy, Austria and Andorra, up to 12 months in advance, and includes transfer information from station to resort.
"With the school holidays over, many skiers are already planning their winter holidays and want to know comprehensive train options – and many start planning a year ahead." says Snowcarbon Director, Daniel Elkan. "But until now they couldn't find comprehensive train timetables on rail-company websites – so although they love the train, they were always left in the dark about their rail options. The Journey Planner is a solution to this.
"We've designed it so that ski resorts, tour operators, travel agents and accommodation providers, who want to proactively communicate train options to clients can now do so, because the Journey Planner can be used as an iFrame within their website travel sections. So skiers can view train schedules, powered by an accurate, updated, comprehensive central information source, without needing to leave the travel page of the ski website that they are on."
Eric Chevalier, director of Les Arcs ski resort in France, one of the first resorts to pioneer the Journey Planner, says: "Les Arcs is the perfect resort to travel to by train with both direct and indirect options from the UK. Rail access is one of our important strengths and we're really pleased to be able to communicate this to the British market with Snowcarbon's journey planner."
Holly Fisher, director of chalet company Fish & Pips, with chalets in Meribel, France, says. "We always encourage our clients to come by train. It is a far more enjoyable journey and it becomes part of their holiday – skiers arrive so much more relaxed. We get a lot of clients asking us for advice on what the best rail options are, so the Snowcarbon Journey Planner enables us to communicate travel information accurately and efficiently."
All the travel information on Snowcarbon has been thoroughly researched, with journey photos to show what the trains and stations are like. The site's new Journey Planner launches on 3rd September 2012. Travelling to the slopes by train is a fun enjoyable experience that creates only a fraction of the pollution of flying or driving. For more information visit: snowcarbon.co.uk.