All-new Ford Focus ST premieres in the Sweeney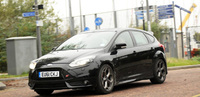 Ford's first global performance car takes centre stage this month with a starring role in new film blockbuster The Sweeney.

Premiered tonight in London, Flying Squad detectives Jack Regan (Ray Winstone) and George Carter (Ben Drew aka Plan B) lead a cast of crime-busting officers as they pursue London's criminals in black Ford Focus ST high-performance hatchbacks.

On sale this month in five other colours including Tangerine Scream and Spirit Blue, the Ford Focus ST's 2.0-litre 250PS EcoBoost engine and explosive acceleration ensure the film's criminals struggle to make a clean getaway.

The Sweeney director and co-writer Nick Love, whose prior credits include The Football Factory and The Firm, said: "It was important for me to collaborate with Ford on The Sweeney as their legacy with the original TV show is so strong – they're the perfect partner. I like the Ford Focus ST so much, I want one!"

The Ford Focus ST goes head to head with a Jaguar XFR on a high-octane chase scene in the film. The cars will again recreate their duel at CarFest North at Cholmondeley, Cheshire, this weekend after appearing at last month's CarFest South.

Ford's strong link with the 1970s Sweeney TV series saw Regan, Carter and their Flying Squad colleagues use a string of Ford Granadas, Consuls and Cortinas to make the streets of London a safer place.

Anthony Ireson, Ford Britain marketing director, said: "The new Focus ST is a hugely exciting car for Ford with terrific dynamic credibility. It will be a car for real driving enthusiasts, so Regan and Carter won't be disappointed."

The new Ford Focus ST five door is priced from £21,995, with a stylish estate body style debuting at £23,095. By the end of August, Ford dealers had taken over 450 orders for the Blue Oval's latest performance car prior to it reaching their showrooms this month.