WhichSocial.com launches Pinterest analytics tool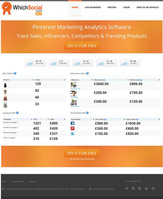 WhichSocial.com, a Manchester-based technology company, has launched a new social media analysis platform for fashion retailers to measure and track their brand on Pinterest.
WhichSocial.com for Pinterest will enable fashion brands to track sales through Pinterest, identify key influencers and evaluate marketing campaigns on this rapidly-emerging social media channel. Retail brands can also follow the popularity of their competitors' products.
The software allows retailers to drill down to a minute level of detail, which allows them to follow the trail from pinning the image to purchasing the product and the key influencers along this journey.
This launch will be closely followed by a Facebook analysis tool for fashion retailers, and then a Twitter analysis tool. The name – WhichSocial.com – was chosen because retailers will be able to analyse and evaluate the effectiveness of campaigns across the three platforms and decide which one works best for them.
Avin Wong, managing director of WhichSocial, said: "The growth in the popularity of Pinterest has come as quite a surprise to retailers, many of which haven't quite figured out how best to use the platform or integrate it into their overall sales and marketing strategy.
"We wanted to create an analysis tool that was simple for retailers to use but produced a level of insightful data that has previously been unseen in a social media monitoring tool. This unique set of information can easily be incorporated into marketing analysis and be used for future campaign planning as well."
Pinterest is currently the fastest growing social network, delivering a larger sales conversion rate than other social networking sites. A report from SteelHouse claims that Pinterest users are 79% more likely to purchase something they see on the site compared to Facebook.
WhichSocial.com has launched specifically for fashion retailers initially because fashion and style is one of the most popular categories to 'pin'. Women's fashion is currently the fourth most popular type of image to pin, according to recent stats from Repinly.
WhichSocial.com has also created a weekly index of global fashion retailers, looking at their popularity across the Pinterest network. The algorithm takes into account the number of pins, the number of re-pins and likes and the number of comments by individual users.
The index tracks pins across the whole Pinterest network, instead of just monitoring the retailer's own boards. This gives each retailer a highly accurate picture of how their brand and products are performing across the social network.
In fact, a brand which doesn't yet have its own Pinterest account and boards can still monitor its popularity by using WhichSocial.com.
All pins, likes and comments are stored on WhichSocial.com's server for an indefinite amount of time – whereas users searching for a brand on Pinterest can only see the last 300 pins.