Taylor Wimpey welcomes £280 million FirstBuy extension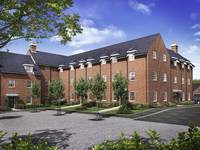 Taylor Wimpey Oxford has welcomed the Government's announcement of a £280m extension to its popular FirstBuy shared equity scheme.
The leading local housebuilder, which is currently building a number of high-quality new homes developments in Oxfordshire, has successfully participated in the FirstBuy scheme since its inception in March 2011.
Darren McCormack, Regional Sales and Marketing Director for Taylor Wimpey Oxford, says: "We are delighted the Government has continued to back this important scheme, which has already helped around 10,000 first-time buyers across the nation to gain a foothold on the property ladder in just 18 months.
"FirstBuy enables first-time buyers to secure a brand new home with just a 5% deposit, which has understandably been incredibly popular with those who had previously feared that property ownership was well out of their reach. It really does make all the difference to those who can afford the monthly repayments on a mortgage but not the hefty deposit.
"An increase in the number of first time buyers entering the market is also good news for those further up the chain as it helps stimulate the market and boosts confidence. Consequently, with more people buying new homes, employment opportunities in the area will increase as it means more jobs within the regional construction industry."
Under FirstBuy, purchasers can own 100% of their new home from Taylor Wimpey Oxford, after initially paying just 80% of the full price, which includes a 5% deposit and a 75% loan to value mortgage.
The remaining 20% is made up of a joint loan from Taylor Wimpey and the Government's Homes and Communities Agency (HCA). The loan is repayable at the end of the 25-year mortgage term or when the property is sold. To be eligible for FirstBuy, customers must be first-time buyers with a household income of under £60,000.
It is projected that the £280m funding announced today will help a further 16,500 first-time buyers own their own home.
Taylor Wimpey's Old Kiln Lakes development in Chinnor currently offers a selection of one bedroom apartments and two, three and five bedroom homes priced from £165,000. Two bedroom apartments and two, three and four bedroom homes are also available at its Hartwell Meadows development in Aylesbury with prices starting from just £125,000.
For further information, visit taylorwimpey.co.uk/firstbuy.