'Gangnam Style' mania prompts one-day tour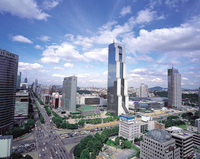 'Gangnam Style' the tune that everyone is talking about has received 131 million hits on youtube! K-Pop music videos were watched 2.2bn times by 235 countries last year and Korea's music industry has accelerated its ranking from 33rd in the world in 2005 to its current position of 11th in 2012! So it is safe to say that K-Pop has definitely arrived onto the global stage and the success of PSY's (Park Jae-Sang) 'Gangnam Style has catapulted K-Pop onto the world stage!
Korean Pop Music, or K-Pop as it is commonly known, is currently Asia's hottest music industry. Fans all over the world have been captivated by K-Pop stars' good looks, amazing dance moves, and catchy tunes. Current K-Pop sensations include 2NE1, PSY, Rain, TVXQ, Big Bang, and the Wonder Girls. VisitKorea has prepared a guide to some of these music superstars. You can read about their road to success at: english.visitkorea.or.kr/enu/CU/CU_EN_8_7_1.jsp
Gangnam is a district of Seoul literally means 'South of the river' and is a mainly commercial area located south of the Hangang River. The district is a mix of super modern department stores and designer boutiques intermingled with shops selling vintage clothes. The area is young, trendy, affluent and visitors are more than likely to spot a celebrity.
Off the back of the success of 'Gangnam Style', visitors can now go on a one-day tour to experience the life of one of Seoul's major areas in true celebrity fashion. The tour is designed to make you feel like a VIP and kicks off with a visit to one of the beauty salons, before heading out to brunch in 'Sinsa & Garosu-gil Street'.
Apgujeong & Cheongdam shopping street awaits next where you will find top designer boutiques and palatial shopping malls. Roll the dice at 7 Luck Casino before spending your winnings at COEX Mall a top spot for shopping, movies and music.
Finally, follow the latest craze and hone your 'Horse Dance' moves to Korea's hottest dance tune 'Gangnam Style' in one of many top nightclubs...and you never know you might even be partying next to rapper PSY!