Toshiba WL968 - Premium 3D performance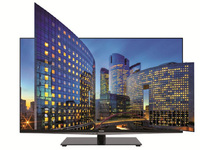 Toshiba has announced its new premium 3D TV range - the WL968 series. Offering an exceptional vivid, 3D viewing experience thanks to passive 3D technology, the new WL968 series comes with four pairs of glasses so the whole family can enjoy the latest 3D entertainment. 2D to 3D conversion technology also means that even old film favourites and much-loved TV programmes can be enjoyed in a new dimension. Viewers can also enjoy easy access to TV, video and movies on-demand from popular services such as YouTube, BBC iPlayer and Acetrax movies using integrated Wi-Fi connectivity.
Available in 119cm (47") and 139cm (55") screen sizes, the WL968 has been designed to fit seamlessly into any modern living space. Designed in collaboration with JACOB JENSEN DESIGN, the new WL series features a minimalist, ultra-thin design, with a gun metal aluminium finish.
Exceptional 3D performance
The WL968 series provides a comfortable 3D cinematic viewing experience using passive 3D technology and lightweight 3D glasses. On-screen content is displayed in Full HD (1080p) resolution, while 400 AMR (Active Motion & Resolution) image processing technology ensures moving images, whether the latest sporting events or fast paced action movies, are fluid and crisp. 3D depth control also gives viewers the freedom to select the level of the 3D effect to their viewing preferences.
Smart TV just got smarter
The WL968 series gives viewers an easy way to explore the world of online entertainment. Integrated Wi-Fi makes it easy to connect to home networks and surf the web using the new open browser, while Toshiba's online entertainment portal, Toshiba Places, provides easy access to popular on-demand video, radio, TV and social media services. Newly added Skype allows users to make free voice and video calls via the big screen when used with a compatible Skype camera that connects to the TV via USB , while services including YouTube, BBC iPlayer Acetrax movies, Twitter, Facebook, Tumblr and more, can all be enjoyed wirelessly without leaving the sofa.
Intel Wireless Display (WiDi) technology enables the WL968 series to display content from any WiDi capable laptop, wirelessly. An integrated dual screen mode allows others to enjoy streamed entertainment on the big screen while continuing working on the laptop. For added convenience, USB Video Recording turns an external hard drive into an HDD TV recorder so users can record and store programmes to watch whenever they want.
Toshiba MediaGuide, a new application for Android powered tablets and smartphones, provides detailed programme listings, additional background information, and the ability to browse and control the EPG from an external device. MediaGuide also lets users categorise TV channels and set programme recordings without having to interrupt the TV screen. Additionally, a free remote control application, Toshiba TV Remote, lets users control the TV directly from their compatible smartphone or tablet.
Four HDMI ports, DLNA compatibility and two USB ports lets users connect to a range of external devices, including games consoles and media players. An integrated digital tuner offers out-of-the-box support for Freeview HD, providing instant access to free high definition programmes plus over 50 free-to-air TV channels with no external set-top box required.
Superior sound
The full Audyssey Premium television technology suite is included on the WL968 series to ensure cinematic sound to complement the excellent visuals. Sound is deep, with rich bass, while volume levels are kept consistent during advertising breaks and a sound equalising system automatically customises sound settings to the room's acoustic set-up.
Stunning picture, stunning design
The new WL series continues Toshiba's collaboration with JACOB JENSEN DESIGN, adding a premium and modern feel to any living room. A super-thin, gun metal aluminum bezel, with a sand-blasted finish, allows the picture to reach to the very edge of the TV, giving a cinema- screen viewing experience that is free of frame interruption, while the brushed metal deco-trim adds to the overall elegance.
The WL968 will be available in Q4 2012.