NewBuy makes housebuying dream come true for Chilton Dene family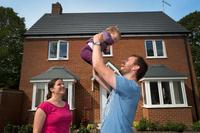 For Cristina del Cano Novales, the benefits of the NewBuy mortgage really come to life when she answers a call from someone wanting to talk to her about the water, gas or electricity at her brand new three-bed Bovis Home in the heart of Oxfordshire.
For most of us, such calls are a cause for dread, but for Cristina it offers a welcome opportunity to remind herself just how her life has changed in the last couple of months.
"I love it!" she laughs. "Every time I am asked the question 'Do you own the house?', I feel really proud when I say 'Yes'! It's just so great to have our own place where our daughter can grow up in."
The daughter is 10-month old Alba del Cano Pedersen and the 'our' includes husband Ulrik Pedersen – and although they are now settled in the heart of England, for them NewBuy is a real international success story.
In 2004 Cristina, originally from Madrid but living in Oxford, met Dane Ulrik while she was visiting her sister in Switzerland.
A year later they were living together in the city of dreaming spires and the software developers admit that if it wasn't for NewBuy, they would now be heading into their eighth year of renting a house they couldn't make their own. Instead they are setting up home as a young family in their lovely detached Sheringham at Bovis Homes' Chilton Dene development.
"We just didn't have enough savings for a deposit," explains Cristina. "We had been renting for the past seven years, and it felt that we were throwing away our money when we could be putting the same amount towards our own house."
That's when the 5% deposit required by NewBuy – the mortgage backed by the Government and the country's major housebuilders and lenders – really made a difference and the couple were able to take up a loan with the Woolwich.
"NewBuy was the only option to buy the home that we wanted," said Ulrik. "We calculated it would take us three years to save up the 20% down payment that would otherwise have been required but by then the house we liked would be sold.
"We've been careful with our budget calculations and made sure we have enough room to pay a bit extra into the mortgage every month.
"We're also very happy with what we have paid for the house as there are very few detached three-beds available in Oxfordshire and even fewer new-builds, so the price is normally quite high, but this one was very reasonable."
Cristina, 33, and Ulrik, 34, are now settling into their third month of life at Chilton Dene with their young daughter and are relishing everything that setting up in a first home entails.
"Apart from setting up home and walking in our wonderful new neighbourhood we've been enjoying the garden a lot," Cristina said. "We're also very close to work now, so it saves us lots of time and fuel. It is very nice to be able to decide what you want the house to look like and what you want to do.
"The location, size, views, the garden, the type of house were all perfect – and we could afford it! When we went to enquire about this new development, we were lucky to get to talk to a very professional person, who arranged a meeting with the financial advisor for the next day, and was really helpful without being pushy, which really helped us decide on taking the step."
For now the next steps include finishing the unpacking and continuing to make the new house their home.
"Having never owned a house before, I'm not very skilled at homemaking, but it's getting easier and it's quite fun," said Ulrik. "We're looking at putting some paved paths around the garden and I hear some flower beds are also being planned!"
More information on Bovis Homes developments, NewBuy and other purchase assistance packages can be found at bovishomes.co.uk.