The Sanchaya to redefine luxury escape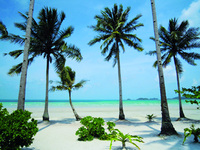 A new hideaway private estate as unique as it is exclusive is to grace the northern shores of Indonesia's Bintan Island in the first half of 2013, aiming to put the island getaway on the map for sophisticated international travellers for the first time.
Located on the Riau Archipelago of Indonesia, just 40km south of Singapore and a fast boat ride away, The Sanchaya is an exclusive beachfront Estate spread out over an expansive 1,300 hectares in the secluded Lagoi Bay area of Bintan.
The 'home-away-from-home' concept is conceived by a group of passionate and dedicated individuals, and takes as its inspiration the legacy and heritage of the various rich cultures of Southeast Asia.
The Sanchaya, which is Sanskrit for "collection", is a bespoke collection of just 19 individually designed villas and 9 suites offering the highest standards of personal luxury, with top quality features including Bang & Olufsen televisions and integrated sound and vision systems throughout, and 462 thread-count Egyptian cotton Percale bedding in all the guestrooms.
The guest experience on the estate will be warm and welcoming, like a private residence, which combines an all-inclusive-style service with the finest creature comforts, celebrating the opulence and mystique of the East.
The Sanchaya brings together the very best examples of Southeast Asian culture; a region rich in artefacts, stories, textures and tastes, which share intimate connections with each other yet retain their own identities.
"We are delighted to introduce this exciting new property to Bintan" said Michael Gaehler, General Manager of The Sanchaya. "Bintan is well known to Singaporeans as a convenient island getaway, but we believe our offering will also appeal to sophisticated international travellers who might not otherwise have considered Bintan as a destination."
He adds, "Our vision for the estate is to offer guests an extraordinary experience like no other. Each and every one of our villas and suites will have its own exceptional style, reflecting the region's art, culture and rich history. Like a mosaic, it is a collection of intricate pieces that are beautiful in their own right, yet brought together to make a whole that is more perfect than their component parts."
Overseeing the design of the estate is the leading Thailand-based international design firm, P49 Deesign, whose portfolio of international clients include some of the most elite hotel, private estate and spa brands such as Ritz Carlton, W Hotels & Private estates, Four Seasons, Conrad and Anantara.
The Sanchaya is set on the prime northern coast of Bintan Island, and will form a part of a wider development project for Lagoi Bay and its surroundings, which will add private residences, hotels and private estates, commercial spaces, a golf course, and an international airport, in addition to the existing domestic airport on the island.
For the first time, guests of the Sanchaya will also be able to arrive in Bintan on their own private boats.
Bintan is located 40 minutes by ferry from Singapore's Tanah Merah Ferry Terminal, just 15 minutes from Singapore Changi International Airport, convenient for regional and international visitors as well as residents of Singapore.
The Sanchaya is located 10 minutes away from Bandar Bentan Telani, Bintan's main ferry terminal and can also be accessed by Sri Bintan Pura Ferry Terminal at Tanjung Pinang. Direct domestic flight connections are available daily from Jakarta to Tanjung Pinang Airport.
The Sanchaya is a member of Small Luxury Hotels of the World and Elite Resorts of Asia Pacific.
For more information, visit thesanchaya.com.