Wildlife's made easy thanks to Wildzone Cumbria and 'Red October'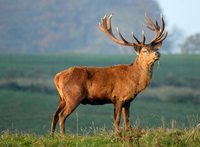 The countdown is on to 'Red October' – a chance to head to the Wildzone Cumbria, have fun in the great outdoors and spot, report and photograph wildlife in abundance.
The Wildzone Cumbria makes interaction with flora and fauna as simple as possible, by highlighting things to do in the wild, places to which to head to encounter wildlife and ways of getting involved with conservation.
The informative website showcases all that Cumbria can boast on the wildlife front and also establishes a dialogue with the wildlife lover, allowing them to put up details of their sightings and share lots of fabulous photographs of what they have spotted in the wild.
'Red October' is a great time to make the most of what Wildzone Cumbria has to offer, with everything from a fungal foray to community artwork in the forest in the wildlife calendar, not to mention nature walks, bird-based bonanzas and a touch of spookiness to celebrate Halloween wild-style!
This is also a time at which you might spot a variety of wildlife, from red squirrels in the forest to red kite in the sky and from red-breasted merganser on the water to red deer on the fells.
A vibrant events programme certainly encourages those who want to don the designer wellies and grab a pair of binoculars to let the red rule their heart, by doing something different and wild for a day, whether that is beachcombing on the coast, or finding conkers in a coppice.
Add to this the chance to win a photographic holiday with nature and outdoor photography experts Lakeland Photographic Holidays and wildzonecumbria.org should be the first website to head to during October 2012.
Discover your inner wild child during 'Red October' with Wildzone Cumbria and you will have lots to talk about when you get home. It really is wildlife made easy!