Tweet for Mii: Seat and Auto Trader in huge prize drop #winMiiwithAT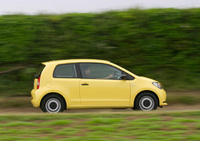 After less than one year on sale, SEAT can confirm that the Mii is being dropped…

…From a crane, that is. And when it hits the ground, one very lucky Twitter user will win it. Today's sensational New Car Drop competition sees SEAT to team up with Auto Trader give away a SEAT Mii Sport city car in Sunflower Yellow – and all it takes to win it is to be a Twit with a bit of wit.

From midday today, Wednesday 3 October, a Mii will be suspended on a crane, 35 metres above Potters Fields Park in London's South Bank – home of such icons as Tower Bridge, the Gherkin, and the slightly less iconic but extraordinarily eccentric David Blaine, who for 44 days during 2003 housed himself in a Perspex box hung nine metres above Potters Fields Park, without food.

The Mii won't dangle for quite that long – just a few hours, in fact – but it will offer visitors to the area more than the chance to just stare in amazement.

For a chance to actually win the Mii, Twitter users need only tell the Twittersphere exactly why they deserve to #winMiiwithAT. The most witty, creative and original Tweets will be given over to Auto Trader's panel of judges, and the best one will nab the car.

Any Tweet posted from 12pm today that includes the #winMiiwithAT hashtag is eligible to win.

And it's not only the Mii that Tweeters have the chance to take home, as Auto Trader is offering 35 spot prizes for Tweets sent at specific winning moments*, ranging from the slightly silly (furry dice) to the frankly phenomenal (an iPad 3).

Those that join the event at Potters Fields Park will be able to enjoy entertainment including street artists and an appearance by model Rosie Jones, as well as, of course, the dangling Mii. Tweeters in attendance will be able to see their Tweets sent live to screens at the venue. The competition winner will be declared live this afternoon.

Auto Trader is currently celebrating 35 years of helping buyers find the right car for them, both used and new, and has chosen the Mii as its prize because of its status as one of the funkiest, most appealing cars on sale in the UK today.

With prices starting from just £7,925, the SEAT Mii offers staggering value for money. Its compact dimensions make it the perfect companion around town, yet clever packaging means it has space for four adults and a generous 251-litre boot.

The lucky winner of Auto Trader's New Car Drop will become the owner of a dazzling Sunflower Yellow Mii Sport**, which is powered by a 75 PS three-cylinder petrol engine, good for 60.1mpg with just 108g/km of CO2. Its RRP OTR without options is £10,080.

SEAT UK will be using its official twitter account, @SEAT_cars_UK, to tweet live pictures from the show today, and re-tweet some of the most interesting competition entries.***

*Winning moments are exact times, to the second, pre-selected by Auto Trader. Any Tweet sent exactly at that time, or the first Tweet thereafter, will win one of the 35 prizes.

**Car handover will be arranged at a SEAT dealership at the winner's convenience, and subject to fulfilment of Auto Trader's terms and conditions. It will not be the car on the crane, but will be a new Mii Sport 3-door in Sunflower Yellow.

***Entries are judged by Auto Trader and verified by competition partner Promo Veritas. SEAT UK has no part in the judging process.