Fifth consecutive record month for Kia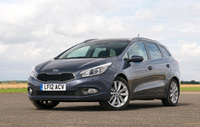 Kia has continued its best-ever year by posting a fifth consecutive record month's performance in the UK new car sales market by delivering 11,608 new vehicles to customers in September – a 19.3 per cent increase on 2011.

September's record figures took Kia Motors (UK) Limited's total sales for 2012 to date to 52,899 vehicles – representing an increase of 22.3 per cent over 2011. This represented a total market share for September of 3.23 per cent – up from 2.93 per cent in 2011 – with significant gains in both retail and fleet market shares to 3.32 per cent and 3.14 per cent respectively.

The year-to-date market share saw even stronger growth rising to 3.26 per cent in total – up from 2.78 per cent in 2011. During the same period the retail market share rose to 3.44 per cent, up from 3.31 per cent, and the fleet market share increased to 3.11 per cent, up from 2.39 per cent.

Commenting on the performance Michael Cole, Managing Director, Kia Motors (UK) Limited said: "2012 continues to be a very strong year for us – September was our fifth record-breaking month in a row and our second best ever – and is testament to the appeal to UK motorists of all the new models that we've launched in recent months.

"With a quarter of the year to go we have already surpassed the total sales volume we achieved in 2009 and are on track for our best ever year in the UK, as well as in other markets across the globe. Our success has been spread across the range, with New cee'd, Picanto, Rio and Sportage all performing strongly, which, with the introduction of further exciting new products this year and in 2013, bodes well for both the brand, and our dealers, in the future," he added.

Full details of Kia's range of cars can be found at kia.co.uk.