5 memorable types of holidays in Britain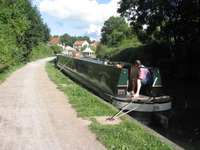 Britain is home to some of the most unusual holidays and in this article we will look at five types of holiday that will not disappoint. Whether you're looking to explore and soak in history, pamper yourself in decadence or rejuvenate in tranquil surroundings, Britain has it all.
Canal Boat Holidays
It's difficult to imagine anything more romantic, more relaxing, more traditionally Britain than meandering through UK's many waterways and canals on a narrowboat. Breathing in the clean countryside air, as you float past the sights and sounds of British countryside is an experience that will be etched into your memory forever. Canal boating holidays have become more and more popular every year with families, couples and groups of friends. Living on a narrowboat and working the locks is a great experience and you can explore local towns, shops, restaurants at your own pace.
Castle Holidays
There's a reason why Great Britain has one of the oldest lasting monarchies on the globe – Brits love their castles! And thank nature that's the case, because Britain boasts some of the most bodacious old-world accommodations. Kate Middleton aside, not everyone's dream of becoming royalty comes true but you can sample a taste of the high life easily these days.
Dotting the countryside from Perthshire to Argyll to Northumberland are opulent castles and manor homes from bygone eras. Many castles have self-catering options; as such, guests can truly experience what it means to be the Lord and Lady of the manor.
Glamping Holidays
If you haven't been glamorous camping (also known as glamping) then you won't be the only ones. Up until only recently have these holidays become popular and the 'glamping' word become known but it's easy to see why. What better place to get your rustic luxury on than in a country with cultural roots that reach back to the dawn of civilization. What is most memorable about glamping holidays is that they like to inject a healthy dose of history into a holiday. As such, you can spend a weekend in a bow-topped caravan in the middle of an apple orchard in Somerset; a few days in a yurt in the Lake District overlooking Britain's tallest peak; or you can spend your holiday in a luxury Iron Age roundhouse – complete with thatched roof on the picturesque Bodrifty Farm.
Treehouse Holidays
Where can you relax in a quite and environmentally friendly, yet luxurious environment? If you have ever fancied living like an Ewok for a week then your dreams can come true. In Britain there are some stunning high-end treehouse getaways perched high in forest trees, away from the crowds when you can be one with nature.
Cottage Holidays
Cottage holidays are very popular in Britain and such is the high demand for cottages, there is a wealth of options from which to choose. Whether you're looking for cottage with a piano, games room, seaviews or a swimming pool, you'll be able to find it with the many specialist holiday cottage companies available in Britain.